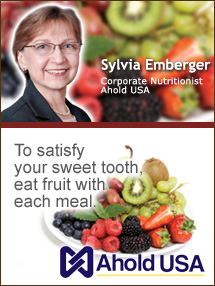 You enjoyed the holiday parties and now it's back to regular meals. Did you make a resolution to keep the numbers on your scale in a healthy range? A regular exercise program is a must but increasing
vegetables
and
fruits
should be a part of the plan as well.
Think of healthy eating not as a diet but a life-long habit that can help you manage weight for years to come.
Use these strategies to get you started.
Focus on What You Should Eat Rather Than What You Shouldn't Eat
USDA's MyPlate recommends filling
half your plate with vegetables and fruits
to add important
nutrients
to your meals as well as
color
and flavor.
Choose cooked vegetables, vegetable soups and salads as some of your options.
Include fruit with each meal to satisfy your sweet tooth. Did you know? Eating an apple 15 minutes before a meal may help you eat fewer calories at your meal and prevent overeating!
Eat More Food but Fewer Calories?
Yes, you can … if you eat more vegetables to replace higher-calorie foods! Here are some ways to increase your vegetable intake …
Fill half of your plate with low-calorie vegetables. A cup of lettuce has only 5 calories, a cup of sliced cucumbers has only 15 calories, and a half cup of baby carrots or cooked broccoli has 25 calories. Go easier on starchy vegetables. A half cup of green peas has 60 calories and a half cup of yellow corn has 90 calories.
Think vegetables first with starch and protein as side dishes. Try these: stir-fried vegetables with rice and chicken, vegetable soup with pasta and beef, extra tomato sauce and mushroom, green pepper and onion topping on pizza.
Remember the fiber and high water content of vegetables help you feel full so you eat less. Add more lettuce and tomato to your sandwich and pay attention to portion sizes of meat, cheese and bread. Make your chili with kidney beans. Add a side salad (easy on the dressing) instead of chips to your lunch.
Fill Up with Soup
Researchers have discovered that starting off with a broth-based soup (instead of cream-based) at lunch will help you eat fewer calories and you won't feel hungrier at dinner. Or make a broth-based soup at dinner to feel full on fewer calories. Make your own soup from scratch or use canned soup as a starter. Here are some ideas …
Sauté onions and celery for a good flavor base. Add lightly browned pieces of chicken, beef, pork or ham (a good use for leftovers). Add broth and fresh, frozen or canned vegetables such as diced carrots, chopped broccoli or cauliflower, cabbage, spinach or kale. Season with herbs, and simmer until vegetables are tender. You'll enjoy the aroma wafting through your house even before you taste it.
Assemble soup in a crock pot in the morning and have a hot meal ready when you come home. Serve with crusty bread from the bakery and fruit for dessert.
For an easy stew, start with canned chunky beef or chicken soup and extend it by adding green beans and sweet potatoes.
Try this soup recipe for a hearty, vegetable-rich meal in a bowl. Serve with crusty bread and enjoy fruit for dessert.

Recipe
Slow Cooker Stuffed Pepper Soup
Makes 6, 2-cup servings
Prep Time: 15 minutes
Cook Time: 8 hours

Ingredients

1 lb ground turkey, 93% lean/7% fat
1 cup chopped onion
1 tsp minced fresh garlic
28 oz can diced tomatoes with juice
6 oz can tomato paste
4 cups low sodium chicken broth
3 cups chopped green pepper
⅔ cup uncooked rice (white or brown)
2 Tbsp brown sugar, packed
1 tsp dried basil
¼ tsp ground cinnamon
Ground black pepper to taste

In a large skillet, cook turkey, onion and garlic over medium heat until browned. Drain any juices and transfer mixture to a slow cooker. Add remaining ingredients and stir gently to mix. Cook on low for 8-9 hours, adding more water if necessary.

Nutrition information per serving: 300 calories, 7g fat, 2g saturated fat, 55mg cholesterol, 540mg sodium, 39g carbohydrate, 5g fiber, 15g sugars, 21g protein
Sylvia Emberger, RD, LDN
Corporate Nutritionist
Ahold USA
Fruit & Vegetable Recipes
Video Center: Selection, Storage, and Preparation of Fruits & Vegetables.