September is National Fruits & Veggies Month (NFVM), a four-week-long celebration of everyone's favorite and flavorful plants–fruits and veggies! Join us and enjoy all the fruits and veggies that you know and love–fresh, frozen, canned, dried and 100% juice–that can taste great and are proven to support your health and happiness!
Show your support for National Fruits & Veggies Month and make a difference with the ready-made resources in our toolkit. Encourage others to join the fun too!
Take the Pledge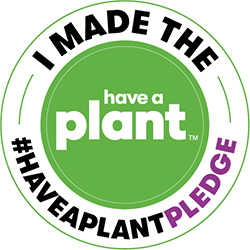 Commit to adding one more fruit or vegetable to your routine every day this month. Take the Have A Plant™ Pledge and download the graphic to share on your social media channels using #haveaplantpledge. You'll feel great and it'll be a big step toward eating more fruits and vegetables each day, for a happier, healthier life.
Spread the Fruit & Veggie Love
Challenge family, friends, colleagues and your community to get involved. Download our sample social posts and include the hashtags, #haveaplant, #haveaplantpledge and #NFVM2020.
Rock Steady and Chat It Up
Stay inspired during National Fruits & Veggies Month with creative tips, tricks and all-around impressive food hacks from PBH's Fruit & Vegetable Ambassadors in Action (FVAA) on PBH's social media channels.





It's Really That Simple
Eating fruits and vegetables can be fun and easy. Simply add one more fruit or veggie to your everyday routine. It can be any fruit or vegetable – apples, broccoli, canned fruit or salsa cups, a handful of dried fruit on the run, or another fruit or veggie you've been meaning to try like zucchini noodles or frozen cauliflower rice. You'll feel the joy and sweet satisfaction that you are one step closer in your quest to eat fruits and vegetables for a happier, healthier life.
So many people are looking for that superfood that's good for their mind and body. Some are looking really hard. But foods with those benefits are not off in the distant future. They are not a rare delicacy. They are not some secret. They are fruits and vegetables, of any kind. They're plants. #haveaplant