September is National Fruits & Veggies Month (NFVM), a month-long celebration of Americans' favorite plant foods and all the amazing flavors and feelings associated with eating and enjoying fruits and vegetables.
Get your passports ready and your suitcases packed! This September, we invite you to use your imagination and join the Have A Plant® Movement for a trip around the globe. In honor of the United Nations General Assembly designating 2021 the International Year of Fruits and Vegetables, this year's celebration will include exciting digital and social activations, globally-inspired content, recipes and more. If there is ONE thing we can all rally behind, it's the multitude of benefits that come with eating more fruits and vegetables – from the sweet-tasting, healthy eating experience of fruits to the smart satisfaction and pride associated with preparing vegetables with a meal. Enjoying fruits and veggies for a happier, healthier lifestyle is a common thread in every culture, and National Fruit & Veggies Month 2021 is the perfect time to drum up excitement for the world's favorite and flavorful plants. #NFVM2021 #IYFV2021 #haveaplant
Sharing fun and easy ways to enjoy more fruits and veggies is the ultimate way to pay it forward.
We invite you to join PBH – and plant-passionate advocates everywhere – in celebrating National Fruits & Veggies Month. Visit the NFVM toolkit for turn-key resources to help you get the party started!
Here's a preview of what to expect in the coming weeks:
Bowls Around The World
Celebrate the flavor and healthful goodness of fruits and veggies in delicious bowls inspired by flavors from across the globe.
Fruits & Veggies In Every Culture
Americans have access to a vast variety of fruits and vegetables given our global food supply. Learn where various fruits and veggies originated as well as their traditional uses in certain cultures.
Root to Leaf: Cooking With The Whole Plant
According to data from the UN World Food Program, approximately one trillion dollars worth of food is lost or wasted every year – accounting for roughly one-third of the world's food. The good news is that reversing this trend would preserve enough food to feed two billion people and promote more sustainable and healthy diets. We'll inspire people to "get their home cook on" with tips and tricks to reduce food waste – from placing veggie scraps in a pot to using corncobs to make a delicious broth.
In The Ground, On A Vine, From A Tree
Honor our country's fruit and veggie farms by taking a closer look at how plants are grown and celebrate global agriculture as part of the International Year of Fruits & Vegetables.
Sing It With Me!
There is no denying that music is a universal language enjoyed around the globe. That's why PBH will be belting out show-stopping tunes to remind everyone that eating fruits and veggies should be fun and as easy as recalling lyrics to our favorite songs.
Follow along on our social media channels using the calendar below to join in the fun!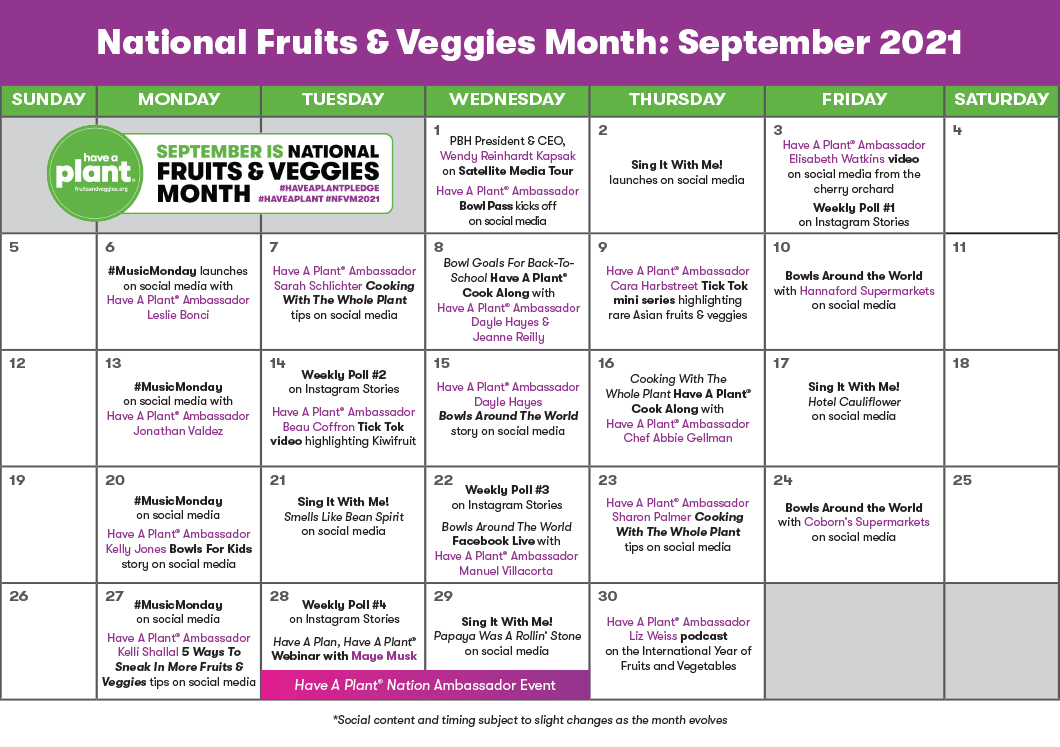 Here are a few more simple ways to get involved and spread the Have A Plant® Movement:
Share The Fruit & Veggie Love On Social Media
Stay inspired and share creative tips, tricks and all-around impressive food hacks from PBH's Have A Plant® Ambassadors as well as your own. Encourage family, friends, colleagues and your community to get involved; tag @fruitsandveggies; and include the hashtags, #haveaplant #NFVM2021 #IYFV2021.
Inspire Friends & Followers To Take The Have A Plant® Pledge
This NFVM, inspire friends and followers to add one more fruit and/or vegetable to their daily repertoire and share why they're glad they did! Take the Have A Plant® Pledge HERE!
Rock The Swag
From a variety of tops, tanks, hoodies and hats, shop the Have A Plant® Swag Shop so you can rep fruits and veggies as you work, play, stay active, meal prep and shop in the grocery store. All proceeds benefit PBH's consumer education and research programs.
Get Into The Groove
Participate in all of the above activities for FREE! Interact with consumer and influencer followers during our live events to get your brands, products and/or commodities shining! Do you or your team have a musical side? Participate in our weekly Music Monday Playlists and help us sing Have A Plant® from the rooftops!
Donate
PBH is a 501c(3) non-profit organization dedicated to increasing fruit and vegetable consumption in America. Your philanthropic contribution benefits consumer education and research programs advancing this mission and the Have A Plant® Movement.