Produce for Better Health (PBH) is dedicated to increasing fruit and vegetable consumption for America's health and happiness.  We at PBH remain vigilant in our efforts to LEAD THE CHANGE that is so very needed and elevate fruit and vegetable consumption to a national priority.
"As an industry, we must embrace our role in leading an initiative focused on improving the consumption of our products, and PBH's credibility with multiple stakeholders allows us to extend our reach."
– CarrieAnn Arias, Vice President of Marketing, Naturipe Farms LLC & PBH Chair of the Board

Why PBH?
Contributing to PBH goes beyond philanthropy.  Our mission-driven priorities are backed by best-in-class research and strengthened by our third-party credibility, allowing PBH to support the needs of the industry, while keeping consumers' health and happiness central to our consumption efforts. PBH Partners receive access to research and consumer insights, thought leadership platforms, and exclusive programming – all while serving the public good.
Partner With PBH
Our PBH Education & Engagement Opportunities are now available. Turn your moments into momentum by joining our partner community today.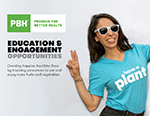 Download the PBH Engagement & Education Opportunities
Ready to join us? Contact Sharese Roper, PBH Industry & Partner Engagement Senior Director at [email protected].