Together, we can help people live happier, healthier lives by eating and enjoying more fruits and vegetables.
Join Us
The Produce for Better Health Foundation (PBH), is elevating the consumption of – and creating demand for – fruits and vegetables among American consumers. As a partner in our mission, you will positively impact and demonstrate your commitment to America's health and happiness.
"As an industry, we must embrace our role in leading an initiative focused on improving the consumption of our products, and PBH's credibility with multiple stakeholders allows us to extend our reach."
– CarrieAnn Arias, Vice President of Marketing, Naturipe Farms & PBH Chair of the Board

Why PBH?
PBH Partnership delivers unique and creative opportunities for companies who want to go above and beyond to reach consumers. By joining our community, you will position your business as a leader in the movement to address America's health crisis through fruit and vegetable consumption.
What's The Value?
PBH partners gain exclusive benefits, including:
Access to proprietary research and consumer insights
Ability to leverage thought leadership platforms
Access to a network of health, wellness, and nutrition communicators
Business-boosting brand engagements through our network of Have A Plant ® Ambassadors
Access to our digital, social media, and advertising platforms that reach consumers directly
And more!
Partner With PBH
Our 2022 PBH Education & Engagement Opportunities are now available. Turn your moments into momentum by joining our partner community today.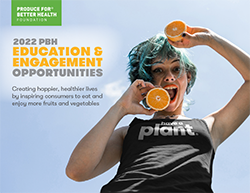 Download the 2022 PBH Engagement & Education Opportunities
PBH is the only 501(c)(3) charitable non-profit organization committed to increasing fruit and vegetable consumption.
Ready to join us? Contact Sharese Roper, PBH's Industry & Partner Engagement Senior Director at e[email protected] or 302-235-1013.