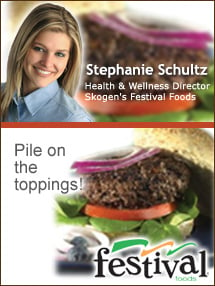 May is National Barbecue, Hamburger and Salad Month. Memorial Day marks the start of summer where barbecued meals can almost become a weekly occurrence. Grilling out usually includes hamburgers paired with fresh salads and an ice-cold refreshment to enjoy outside on the patio. Oftentimes
fruits
and
vegetables
are forgotten when it comes to preparing burgers. The solution to this problem is simple: build a better burger!
3 Creative Ways to Build a Better Burger
Burgers do not have to be made from just meat
Add fruits and vegetables to the ground meat. Try adding carrots, onions, zucchini, apples and even blueberries. Put fruits, vegetables and meat into a food processor and process until you've mixed all the ingredients together. Shape the hamburger patties as you normally would. This is also a simple way to save a little money on groceries, since fruits and vegetables are cheaper than meat.
Veggie burgers are not only for vegetarians. Make your own veggie burger at home using an array of vegetables such as mushrooms, carrots, zucchini, artichokes, red pepper, corn, garlic, basil and parsley. The vegetable varieties are endless! You can even experiment with dried fruits in your veggie burger – all forms of fruits & veggies matter! Try adding oats, brown rice, whole wheat bread crumbs and different types of nuts, seeds and beans to power-up the protein content of your veggie burger. The combination of vitamins, minerals, fiber and lean protein makes homemade veggie burgers a healthier veggie burger option.
Portobello mushroom burgers are the steak of veggie burgers. Mushrooms are fat free, very low sodium, cholesterol free, low calorie, high in riboflavin and a good source of niacin, copper and pantothenate. Clean Portobello mushroom caps and marinate before grilling, or brush with olive oil and sprinkle with a dash of salt and pepper. The meaty texture of this versatile vegetable is sure to satisfy your taste buds!
Pile on the toppings! You can grill or sauté fruits and vegetables, or simply clean, chop and add to your burger.
Vegetables: tomatoes, mushrooms, cucumbers, leaf lettuce, spinach, kale, chard, arugula, peppers, onions, squash, corn, eggplant, artichokes, sprouts, zucchini
Sauces: guacamole, salsa, hummus
Pair your burger with a side salad, fresh fruit or grilled vegetables to perfect your plate!

Recipe
Blueberry Burgers

Yield: 4 servings
Total Time: 30 minutes

Ingredients

¼ cup oats
⅓ cup fresh (or frozen and thawed) blueberries
1 Tbsp. balsamic vinegar
2 tsp. Dijon mustard
1 tsp. Worcestershire sauce
2 cloves garlic, minced
Salt and pepper, to taste
12 oz. 95%-lean ground beef or 93%-lean ground turkey

Directions

Place oats in a food processor and pulse into fine crumbs. Transfer to a large bowl.
Add blueberries, vinegar, mustard, Worcestershire, garlic, salt and pepper to the food processor; process until puréed. Scrape into the bowl with the breadcrumbs. Add ground beef/turkey and mix well with a potato masher. Divide the mixture into four equal portions; form into 1/2-inch-thick patties, about 4-inches in diameter.
Meanwhile, preheat broiler or heat an indoor or outdoor grill to medium-high. If using the broiler, coat a broiler pan with cooking spray. If using a grill, oil the grill rack by rubbing it with an oil-soaked paper towel. Cook patties until browned and no longer pink in the center, 4 to 5 minutes per side, to an internal temperature of 160°F. Serve immediately.

Recipe & photo adapted from eatingwell.com
Stephanie Schultz RD, CD
Health & Wellness Director
Skogen's Festival Foods
Fruit & Vegetable Recipes
Video Center: Selection, Storage, and Preparation of Fruits & Vegetables.