When it comes to good nutrition,
all forms of fruits and vegetables matter—fresh, frozen, canned, dried and 100% juice.
With 200+ options and a variety of convenient packaging to make fruits and vegetables easy to store and easy to serve, there's bound to be something to please everyone! All forms of fruits and vegetables count toward your
daily recommendation
.
Most frozen and canned foods are processed within hours of harvest, so their flavor and nutritional value are preserved. Facts about Canned Foods
Studies show that recipes prepared with canned foods had similar nutritional values to those prepared with fresh or frozen ingredients.
Canned foods are "cooked" prior to packaging, so they are recipe-ready.
Frozen foods also require little preparation—washing and slicing, for instance, is already done. See Frozen Fruit & Veggie Recipes
Freeze-dried fruit is a tasty and delicious way to eat more fruit because all of the moisture from the original fruit is removed, resulting in a light, crispy texture that's perfect for snacking. Top 10 Places to Take Freeze-Dried Fruit
Need Some Easy Ideas? Check Out the Chart & Videos Below!
Easy Chart! A Week of Meals with Canned Foods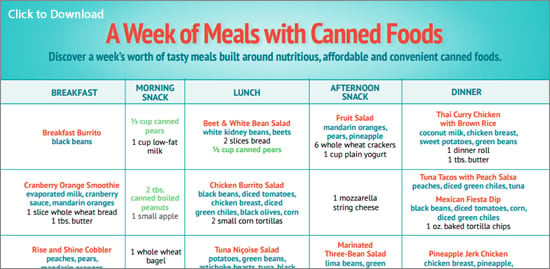 VIDEOS Recipes Using Canned Fruits & Veggies
Pineapple Jerk Chicken
Tuna Fish Tacos