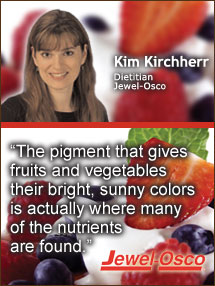 Grilling season is gearing up as the school year winds down and weather finally cooperates to entertain outdoors! This Memorial day, celebrate our veterans with a patriotic nod to the menu. In addition to the usual grilling fare, add tasty and healthful fruit and veggie treats in red, white and blue!

Every color of the rainbow offers a unique mix of nutrients that are important for good health, including antioxidants, fluid, fiber, vitamins, and minerals! In fact, the pigment that gives fruits and vegetables their bright, sunny colors is actually where many of the nutrients are found, which is why eating produce in the same color family provides a similar mix of nutrients! This means that menus never have to be boring, and no matter what favorites fall in each color of the rainbow, those nutrients will be there in each choice.

Make this a fun way to challenge guests to bring their favorite color combinations to the party! The table will look great, and many creative new ways to enjoy produce at festivities or on regular weekdays will be found! No matter the celebration or occasion, there is a produce in the color of the season that can be served. Guests will love it and it will help carry the theme – it's not just about colored plates anymore! Celebrate in style while providing necessary nutrients to everyone at the table.

Red Produce: The pigment in red produce helps showcase the nutrients that help with heart health, memory, and a reduced risk for cancer! Wash produce and be sure to eat the skins on everything from apples to red pepper for the most nutritional bang for the buck.
White/Tan Produce: It may seem odd to talk about white produce when the typical rule of thumb is the darker, more vibrant colors in both fruits and vegetables pack the most nutrition per serving. However, thinking in terms of art class, remember that white is actually all colors combined! Never fear, the palest in the salad bowl of produce choices still packs a nutritional punch! For example, cauliflower is a cruciferous vegetable with anticancer properties, while both white potatoes and bananas are packed with potassium which plays a role in maintaining a healthy heart and blood pressure!
Blue/Purple Produce: It's true that not many foods are naturally blue, but those that are happen to be some of the most antioxidant rich choices in produce. From helping to improve memory to healthy aging to helping reduce risk for major chronic diseases like heart disease, high blood pressure, and cancer, it's important to get the blues (on the menu) each week!
Party–Friendly Patriotic Produce Ideas:
Patriotic Parfait
Simply layer raspberries or strawberries, banana slices and vanilla yogurt, and blueberries/blackberries in a stemmed glass for a red, white, and blue treat that is beautiful to serve, packed with nutrients, and easy to eat! For a garnish, add a sprig of fresh mint if desired.

Red, White, and Blue Beverage
Freeze berries (blue and red) into 100% purple grape juice or red juice like cranberry. Once frozen, serve in iced white tea or lemonade made with fresh lemon for a sneaky, refreshing way to get fruit on the party menu!
Patriotic Vegetables for the Party

You Need:
Red bell pepper, cut into strips
Cherry or grape tomatoes
Radishes
Jicama cut into strips
Cauliflower florets
Mushroom slices
Shallots
Purple asparagus
Light ranch dressing for dipping

You Do:
Arrange red, white, and blue veggies on a platter alternating colors to fill the tray. Serve with light ranch or other veggie appropriate dip to make veggies the life of the party!
Fresh Summer Fruit Salad
Servings: 4
Ingredients:

1/2 cup water
2/3 cup sugar
3 cups thinly sliced rhubarb
15 seedless grapes, halved
1/2 orange, sectioned

10 fresh strawberries, hulled and halved
1 apple, cored and diced
1 peach, sliced
1 plum, pitted and sliced
15 pitted Bing cherries
1/4 cup fresh blueberries

Directions:

Bring water and sugar to a boil in a medium saucepan over medium heat. Stir in the rhubarb, turn heat to low, cover, and simmer until rhubarb is soft, 10 to 15 minutes. Mash and chill in the refrigerator, about one hour.
To serve, mix the grapes, orange, strawberries, apple, peach, plum, cherries, and blueberries with 2/3 cup of the rhubarb sauce. Stir gently, but thoroughly to coat. Refrigerate for at least two hours to allow the flavors to blend.
Kim Kirchherr, MS, RD, LDN, CDE