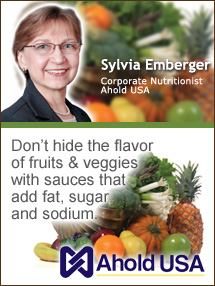 With all of the wonderful fall produce available, it's easy to fill half your plate with fruits and vegetables. Why hide their flavor with toppings and sauces that add fat, sugar and sodium that can weigh you down and put your guests to sleep? Lighten up and bring your holiday meal into the 21st century with quick and easy preparation methods that bring out the flavor of vegetables and fruits and keep calories in check.
Roasted Vegetables
Roasting vegetables not only softens their texture but also caramelizes their natural sugars to produce a delicious nutty flavor and lovely brown color. Even reluctant veggie eaters will be tempted!
Add just enough olive or canola oil to coat the vegetables. Set the oven temperature between 400° and 450° F. The higher temperature will quickly brown tender vegetables such as
Brussels sprouts
,
green beans
or
cauliflower
in about 10 to 20 minutes. Use the lower temperature for sturdy vegetables such as
carrots
,
potatoes
,
beets
,
turnips
,
pumpkin
or winter squash, which may take 45 minutes or more. Vegetables cut into smaller pieces will roast faster than larger pieces.
Try these roasted vegetables …
Roast Brussels sprouts and cherry tomato halves, then marinate in Italian vinaigrette.
Deconstruct green bean casserole and make it simple. Roast green beans and top with caramelized onions and sautéed mushrooms.
Steamed Vegetables
Steaming vegetables uses very little water and helps preserve the vitamins that would otherwise be leached out by boiling and draining. It's also quick and easy, especially if you use packaged frozen vegetables that can be steamed in the microwave. Try this …
Steam carrots and sprinkle with tarragon, parsley or other herbs.
Cook sweet potatoes in the microwave, then mash with orange juice and orange zest. Top with toasted pecans and save the marshmallows for toasting over a campfire.
Salads
On salads, think of fruits and nuts as the new croutons that add texture, flavor and valuable nutrients. A couple of ideas …
Dessert
For dessert, show off the beauty of fruits and skip the efforts of baking when you have so much to do to get ready for the meal. Try this …
Instead of hiding fruit in a double crusted pie, fill tiny tart shells with apple or cherry pie filling.
Some recipes will remain family traditions for a long time. But keep in mind that holiday favorites do change over the years and some of today's new recipes may become tomorrow's traditions. So, be adventurous!
Sylvia Emberger, RD, LDN