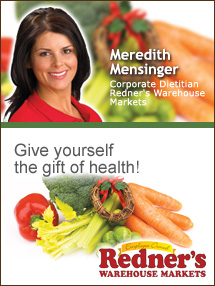 The holiday time is here and we recognize that gifts come in many different shapes and sizes, yet all equal and meaningful. One of the best gifts we can give ourselves is a diet rich in
fruits
and
vegetables
. Fruits and vegetables come in many colors, varieties, and forms and all are beneficial to a healthful diet while individually contributing unique
nutrients
. This holiday, focus on a bountiful feast of color, textures, and tastes that fruits and vegetables provide. Remember not only does MORE matter, but
all forms matter
too!
Ways to Use All Forms of Fruits & Veggies Over the Holidays
Fresh
Use the principals plan, purchase, and prepare when it comes to fresh fruits and vegetables. To avoid spoilage and waste, plan what items you need, purchase items in season to stick to your budget, and prepare items when you get them home so they are conveniently ready to be part of your meal or snack!

Canned
Canned fruits and vegetables are picked and packed at their peak freshness. Canning techniques allow the foods to remain stable, providing you with maximum nutrients. And with a long shelf life, you can stock up on your favorite canned fruits and vegetables when they go on sale.

Whole-Berry Cranberry Sauce
Applesauce
Fruit Cocktail

Dried
Dried fruits are a fun, nutritious way to add pizazz to your holiday salads, appetizers, and desserts, or even just to eat as a snack!

Frozen
Frozen fruits and vegetables are also picked and packed at their peak freshness. While requiring very little preparation, frozen items are a convenient, timesaving solution for all families!

100% Juice
100% Juice is a convenient way to reach the recommended amount of fruits and vegetables daily. Just one 4-ounce glass provides a full serving. Create special holiday drinks with an added twist of nutrition!

Orange Juice
Cranberry Juice
Apple Juice
With plenty of options and a variety of convenient packaging to make fruits and vegetables easy to store and easy to serve, there's bound to be something to please everyone!

Happy Holidays!
Meredith Mensinger RD, LDN
Corporate Dietitian
Redner's Warehouse Markets
Fruit & Vegetable Recipes
Video Center: Selection, Storage, and Preparation of Fruits & Vegetables.