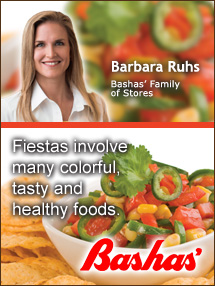 Celebrations in most cultures involve traditional cuisine. In Mexico, "fiestas," the Spanish word for party or festival, involve many colorful, tasty and healthy foods. Moving to Arizona from Boston, I've been on a culinary quest to experience the strong influence of Mexican cuisine on the food in my new home. My first clue that eating here was going to be different happened when I entered the produce section of one of our stores. Among the lettuce, carrots and onions, imagine my surprise at finding nopales (cactus pads from the prickly pear) with the spines removed. They have a sublime tart flavor, with a crisp outside and somewhat gooey inside. They are an obvious source of dietary fiber, contain amino acids and vitamin C. Traditionally, you will find them served with scrambled eggs (huevos con nopales).

Peppers are another vitamin-packed food that are found abundantly in Mexican cuisine. Jalapeno (or dried & smoked, chipotles), poblano, serrano, habanero, as well as red and green bell peppers are among the many types of peppers that you may sample in all kinds of food found in the Southwest. Peppers are a good source of most B vitamins, potassium, and vitamin C. All hot chili peppers contain phytochemicals known as capsaicinoids, which are responsible for the "heat" in chili pepper. These "hot" nutrients are believed to convey a number of health benefits. Capsaicin is a substance that binds with pain receptors in the mouth and throat and signals the brain that something hot has been consumed. The body responds by raising the heart rate, increasing perspiration and releasing endorphins. No wonder it feels so good to eat Mexican food!

To soothe the fire of chili peppers, you may want to sample some guacamole. Introduced by the Aztecs, guacamole today is made with a variety of fresh produce items: ripe avocados; tomatoes; onions; fresh cilantro; and lime or lemon juice. Ingredients are mashed in a molcajete (mortar and pestle) with salt, cumin, garlic, and chili powder (or fresh peppers). Avocadoes are an abundant source of unsaturated fats, and contain small amounts of potassium, B vitamins, vitamin E and vitamin K.

Finally, every fiesta must include salsa, a traditional low-fat Mexican condiment served with everything. There are several types of salsa, and you may want to try making one of these versions at home:
Pico de gallo (rooster's beak or raw sauce) is made with fresh, raw ingredients including tomatoes, onions, peppers, cilantro and salt.
Salsa verde (green sauce) is made with peeled, cooked green tomatillos (a relative of the gooseberry), onions, jalapeno peppers, lime juice and cilantro.
Salsa roja (red sauce) is made with cooked tomatoes, chili peppers, garlic, onions, and fresh cilantro.
Mango salsa is an antioxidant powerhouse that is sweet and spicy and made with mangoes, cucumber, red onion, jalapeno, cilantro, and lime juice.
Peach salsa is a great topping for grilled meats and is made with fresh peaches, sweet onions, tomatoes, lemon juice, jalapeno, garlic, cilantro, extra virgin olive oil and honey.
Watermelon salsa is a refreshing summer treat made with fresh watermelon, lime juice, honeydew or cantaloupe, cucumber, red onion, fresh mint, crystallized ginger and jalapenos.
From hot to hearty, sweet to sweltering, there's something for everyone in the colorful cuisine of Mexico. Fiesta your way to health!

Barbara Ruhs, MS, RD, LDN
Fruit & Vegetable Recipes
Video Center: Selection, Storage, and Preparation of Fruits & Vegetables.