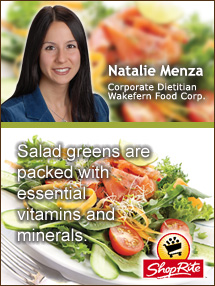 When the days are hot, nothing beats a salad for a cool, delicious meal. The abundance of lettuces and other leafy salad greens available this season makes these dishes even more appealing. Salad greens are low in calories, high in fiber and packed with essential vitamins and minerals. Complement them with a lean protein, your favorite veggies, and even fresh or dried fruit for a delicious and healthy one dish wonder. And for those who think a salad can't satisfy hunger pangs or flavor cravings, think again. With a little creativity, salad recipes can be full of flavor and very filling–worthy of taking center stage at any meal.

Every great salad starts with fresh, colorful greens. And with the great selection available, there's no reason to get into an iceberg lettuce rut. For the ultimate in convenience, try pre-washed bagged lettuces and prepackaged salad mixes with gourmet greens. Remember to add a colorful variety of fruits and veggies to your salad for the best nutritional value.

There's really no limit to the ingredients you can add to salads. Here are some ideas:

Proteins: Grilled or rotisserie chicken, grilled fish or shrimp, canned tuna, shrimp or chicken, sliced lean steak, low fat cheese, canned beans, or a hard cooked egg.

Veggies: Broccoli, cauliflower, tomatoes, red and green bell peppers, onions, zucchini, cooked green beans, radishes, cucumbers, beets, carrots, green and red cabbage, or mushrooms.

Fruit: Oranges, apples, pears, mangos, strawberries, grilled fruit, raisins, grapes, and dried cranberries.

Other Goodies (use in moderation): Capers, olives, sunflower seeds, and nuts
Main Dish Salad Meal Ideas

Chickpea Vegetable Salad: Roast green and red bell peppers, onions, asparagus, and carrots. Toss with chickpeas and your favorite low fat vinaigrette dressing.

Salmon Salad: Toss mixed greens with blanched snap peas, tomatoes, broiled or grilled salmon, cucumber and low fat balsamic vinaigrette. Top with toasted pine nuts.

Tex-Mex Salad: Combine lettuce, tomatoes, grilled sliced flank steak, crushed low fat tortilla chips, black beans, and reduced fat shredded cheddar cheese. Top with fresh salsa and low fat sour cream.

Citrus-Berry Salad: Top fresh mixed greens with mandarin oranges, sliced strawberries, red or green grapes, and chopped red onion. Finish off with a low fat balsamic vinaigrette dressing.
Wakefern Food Corporation
Fruit & Vegetable Recipes
Video Center: Selection, Storage, and Preparation of Fruits & Vegetables.