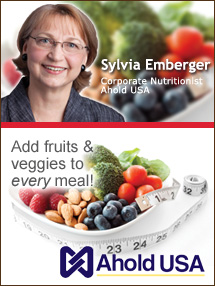 USDA's MyPlate provides an easy reminder for planning balanced meals. Are you filling half your plate with
fruits
and
vegetables
, the other half with lean protein and whole grains and including dairy at each meal? If not, accept the challenge from the Academy of Nutrition and Dietetics during National Nutrition Month to
Get Your Plate in Shape
.
Small Changes Can Make a Big Difference
Get in training now by making small changes to your eating habits that can lead to better nutrition and better health for a lifetime.
Here are 3 steps to help get you started …
Set Your Goals
Consider how getting your plate in shape can help you get in shape. The better your plate, the better shape you'll be in!

Achieve your goal weight. Use a smaller plate and dish up less than you think you will eat. Enjoy your food but eat less.
Tone up. Get fiber and important vitamins and minerals from whole grains instead of empty calories from refined flour, sugar and fat.
Get fit and trim. Choose a variety of lean proteins including seafood and beans.
Build strength. Include low-fat dairy or fortified soy products that provide calcium and vitamin D for healthy bones.
Get a glowing complexion. Add color to your cheeks by adding color to your plate with fruits and vegetables!

Start Your Training
Start by adding fruits and vegetables to every meal. You won't feel as hungry between meals and you'll benefit from the vitamins, minerals and other nutrients that fruits and vegetables provide. Here are some easy ways to pump up the nutrition in everyday dishes …

Fill Half Your Plate with Fruits & Veggies
It doesn't matter if your plate is round or square or if you don't even use a plate. Work up to making half of what you eat each day fruits and vegetables.
Recipe
This recipe that adds cooked broccoli to basic macaroni and cheese, making a complete meal. Serve crunchy carrots on the side and fresh grapes for dessert.
Broccoli and Ham Casserole
Makes 4 2½-cup servings
Prep time: 10 minutes
Cook time: 40 minutes

Ingredients

8 oz uncooked macaroni (2 cups)
1 tsp canola oil
1/4 cup minced onion
4 Tbsp all-purpose flour
2 cups skim milk
2 oz sharp cheddar cheese, grated (1/2 cup)
1 cup diced ham
3 cups cooked chopped broccoli
1/8 tsp ground black pepper
2 Tbsp toasted bread crumbs
2 Tbsp grated Parmesan cheese

Directions
Cook macaroni in boiling water, about 6-8 minutes; drain and place in a 2-quart casserole dish. Preheat oven to 350° F. While macaroni is cooking, heat oil in a saucepan over medium heat and sauté onion until soft. Whisk together flour and milk and add to saucepan; cook and stir until thickened and bubbly. Add cheddar cheese to sauce and stir until melted. Add ham, broccoli, pepper and cheese sauce to macaroni and stir to combine. Mix together bread crumbs and Parmesan cheese and sprinkle over casserole. Bake for 30-35 minutes or until heated through and bubbly.

Nutrition information per serving: 440 calories, 12 g fat, 5 g saturated fat, 40 mg cholesterol, 690 mg sodium, 62 g carbohydrate, 4 g fiber, 25 g protein.
Sylvia Emberger, RD, LDN