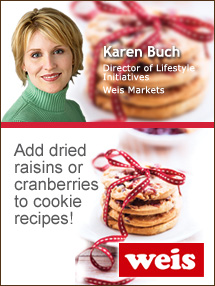 One of the best ways to be healthy this holiday season is to include
fruits
and
vegetables
in your favorite holiday meals and treats. You can even incorporate produce into your holiday gift giving to help your family and friends eat more fruits and veggies. Give it a try with these recipes and how-to videos …
10 Ways to Add More Fruits & Veggies to Your Holidays
Add dried raisins or cranberries to cookie recipes like these Cranberry-Pistachio Oat Cookies.
Sprinkle fresh pomegranate seeds into a festive holiday drink spritzer. How To Open a Pomegranate
Add citrus fruits like oranges, grapefruit and clementines to holiday gift baskets.
Make quick breads like traditional banana bread or a more exotic Mango-Almond Bread to serve as part of a holiday breakfast or brunch.
Roast Brussels sprouts with a sprinkle of sea salt and a drizzle of olive oil as a classic veggie side dish.
Add carrots, celery and onions to your favorite stuffing recipe, or take it a step further and use our recipe for individually baked Stuffin' Muffins to aide with portion control.
Make a lighter rich and creamy soup appetizer featuring either broccoli or cauliflower with this recipe for Broccoli Cheddar Soup.
Serve mashed potatoes or sweet potatoes as an excellent source of potassium and fiber.
Make RED Velvet Cupcakes (recipe below) that contain a secret GREEN ingredient—Avocados! Kids will love 'em!
Recipe
Red Velvet Mini Cupcakes
Prep Time: 20 minutes
Bake Time: 20 minutes per muffin tin
Makes: 2 dozen cupcakes

¾ cup Weis Quality granulated sugar
2 oz. ripe, fresh Hass avocado, peeled, seeded and puréed
1 large Weis Quality egg
1 Tbsp. red food color
½ tsp. Weis Quality pure vanilla extract
½ tsp. Weis Quality cider vinegar
1 cup plus 2 Tbsp. cake flour
1 Tbsp. unsweetened cocoa powder
½ tsp. Weis Quality baking powder
½ tsp. Weis Quality baking soda
¼ tsp. Weis Quality salt
½ cup buttermilk

In a large bowl, CREAM sugar and avocado. ADD egg, red food coloring, vanilla and vinegar; BEAT to incorporate. In a large bowl, COMBINE flour, cocoa, baking powder, baking soda and salt. ADD ¼ cup of the buttermilk and half the dry ingredients to the avocado mixture; STIR to combine. ADD the remaining buttermilk and dry ingredients and STIR to combine. SPOON batter into 1-¼-inch – 1-½-inch paper lined mini-muffin tins, about 1 Tbsp. per cupcake. Bake at 350°F for 20 minutes until lightly golden brown. COOL before frosting.
Frosting

4 oz. Weis Quality Neufchatel cheese, softened
2 Tbsp. vegetable oil baking sticks, softened
1 oz. ripe, fresh Hass avocado, peeled, seeded and puréed
1 ¾ cups Weis Quality powdered sugar
1 Tbsp. Weis Quality honey
¼ tsp. Weis Quality pure vanilla extract

In a medium bowl, BEAT the Neufchatel cheese, butter, and avocado purée until fluffy. ADD the powdered sugar, honey and vanilla BEAT until combined.
Karen Buch, RD, LDN
Registered Dietitian and Director, Lifestyle Initiatives
Weis Markets
Fruit & Vegetable Recipes
Video Center: Selection, Storage, and Preparation of Fruits & Vegetables.