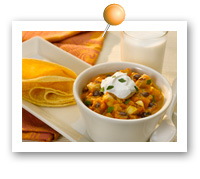 Make Half Your Plate Fruits & Veggies



MyPlate Challenge: Show us how you're following the MyPlate guidelines and make one of these plates (or another healthy plate), take a pic, and pin it to our Pinterest board!



Make this Pumpkin Soup Plate


Hearty Santa Fe Pumpkin Soup Get Recipe


Corn Tortillas


Non-Fat Milk



Plate Cost for 4 People


$12.56 ($3.14/serving)*



Fruits & Veggies per Serving


1.25 Cups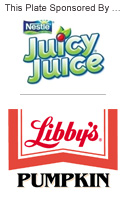 Featured Recipe


Hearty Santa Fe Pumpkin Soup


Recipe Cost for 4 People: $11.69 ($2.92/serving)*

Nutrition Info
Calories: 460
Total Fat: 8g
Saturated Fat: 2.5g
% of Calories from Fat: 16%
% Calories from Sat Fat: 5%
Protein: 35g
Carbohydrates: 65g
Cholesterol: 60mg
Dietary Fiber: 12g
Sodium: 530mg
Each Serving Provides: An excellent source of fiber, protein, vitamin A, vitamin C, vitamin D, riboflavin, vitamin B12, potassium, calcium, phosphorus, magnesium and iodine, and a good source of thiamin, vitamin B6, iron, zinc, and copper.

Meal MyPlate Contributions
Vegetables
Fruit
Grain
Protein
Dairy
1 cup
0.25 cup
2 oz
2 oz
1 cup

Learn More About Pumpkin


See Nutrition Info, Selection & Storage Tips



Learn More About Black Beans


See Nutrition Info, Selection & Storage Tips
Grocery List for this Meal
Fresh Produce
2 cloves garlic
1 yellow onion
Juice
64 oz NESTLÉ® JUICY JUICE® All Natural 100%
Apple Juice
Canned
15 oz can no-salt-added black beans
4 oz can diced green chile
2 cups (16 fl oz) low-sodium
chicken broth
Frozen
1 lb package (8 oz needed) pre-cooked, frozen chicken breast strips
Dairy
Small container low-fat sour cream
1 quart fat-free milk
Baking/Cooking
1 15 oz can LIBBY'S® 100% Pure Pumpkin
paprika (regular or smoked)
ground cumin
Condiments/oils
Canola oil
Ethnic
8-12 pack small corn tortillas
Healthy Resources
FoodChamps.org
Libbyspumpkin.com
Juicyjuice.com
Meals.com
ChooseMyPlate.gov
LIBBY'S® AND NESTLÉ® JUICY JUICE® are registered trademarks owned by Société des Produits S.A., Vevey Switzerland or used with permission.

*Retail prices, Boulder, Colorado, Summer 2012