Learn How to Make Your Own Healthy Plate.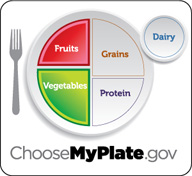 USDA's MyPlate says fill half your plate with fruits & veggies! Our sponsors want to show you how. See our featured 'plates' below and get info on how to re-create each one! We've provided a recipe, nutrition info, cost analysis and a shopping list for each healthy plate. If you'd like to just make the recipe, separate info is available for that as well. Enjoy!

MyPlate Challenge: Show us how you're following the MyPlate guidelines and make one of these plates (or another healthy plate), take a pic, and pin it to our Pinterest board!
Make This Plate
Artichoke with Dip
Breakfast Parfait
Featured Recipe

Artichokes with Lemon Dill Yogurt Dip

Featured Recipe

Banana Pineapple Breakfast Parfait
Avocado & Cheese Sandwich
Steak & Potatoes
Featured Recipe

Grilled Avocado, Tomato & Feta Cheese Sandwich

Featured Recipe

Grilled Red Potatoes and Steak with Kiwifruit Molho a Campanha
Bean Salad
Featured Recipe

Mediterranean Bean Salad

See How Your Plate Stacks Up!


Find Your Plate in Our Before & After (Unhealthy & Healthy) Plate Comparison



Tips


Fast, Healthy Lunches On the Go!

Family Meal Makeovers

See How Affordable Healthy Eating Can Be with these 'Tradeoffs'


Back to Top