Fruits and Veggies – The Thrill of the Grill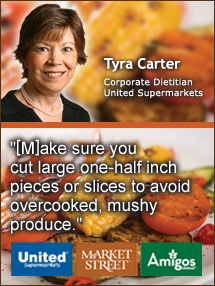 By this time of the year, Americans have turned to the tradition of backyard cookouts. You may be thinking of barbeque, hamburgers or hot dogs. But what about bringing vegetables and fruits to the forefront of outdoor cooking fun to WOW your family and friends? The American Cancer Society and American Institute for Cancer Research promote limiting intake of grilled meats due to harmful chemicals that are formed when meat is exposed to high temperatures and charring associated with grilling. However, produce does not carry this risk and can be a healthful alternative to your meals.

When grilling veggies or fruits, make sure you cut large one-half inch pieces or slices to avoid overcooked, mushy produce. If you are making kabobs, soak wooden skewers in water before you grill to avoid burning them. You can cook produce directly on a grill surface or basket, on heavy-duty aluminum foil or on a reusable foil baking pan. Make sure the cooking surface is clean and has been prepared by coating lightly with a nonstick cooking spray or oil.

Veggies
Vegetables such as summer squash (zucchini or yellow), asparagus, eggplant, onions, cabbage, peppers (bell or hot varieties), corn on the cob and mushrooms, to name a few, are perfect for the grill. Veggies that are high in water content such as cucumbers, celery, lettuce or leafy greens are not generally suitable for grilling.
Fruits
Grilling fruits like
pineapple
and stone fruit, such as
peaches
,
nectarines
or
plums
, works well because it caramelizes the natural sugar, makes attractive grill marks and brings out the natural sweetness of the fruit. Pick fresh firm fruit that is just short of being perfectly ripe and leave the skin on. Fruits require little preparation and can be ready for the grill in a flash! I simply brush cut fruit with Balsamic Glaze (balsamic vinegar that has been reduced or cooked until thickened) and grill until it is marked and softened, about 3 to 5 minutes.
You can also try grilled
apples
as a way to increase soluble
fiber
and intake of natural phytochemicals that may reduce your risk for heart disease and some cancers, as well as improve brain function.
Desserts
Grilled fruit also makes a perfect lowfat summer dessert. Top fruit with a dollop of ricotta cheese and drizzle with honey to beat the summer heat! You can even add some chili powder to fruit for an unusual yet super flavorful combination. Grilled fruit can also be served in a compote dish with a scoop of frozen lowfat yogurt or ice cream.
Try This!
BBQ Corn on the Cob
Ingredients:

1 teaspoon chili powder
1/8 teaspoon dried oregano
1 pinch onion powder
Cayenne pepper to taste
1 pinch garlic powder
1/8 teaspoon salt

1/8 teaspoon ground black pepper
3 tablespoons Land O' Lakes light butter, softened
6 ears corn, husked and cleaned

Directions:

Preheat grill for medium-high heat.
In a medium bowl, mix together the chili powder, oregano, onion powder, cayenne pepper, garlic power, salt, and pepper. Blend in the softened butter. Apply this mixture to each ear of corn, and place each ear onto a piece of aluminum foil big enough to wrap the corn. Wrap like a burrito, and twist the ends to close.
Place wrapped corn on the preheated grill, and cook 20 to 30 minutes, until tender when poked with a fork. Turn corn occasionally during cooking.


Tip: To cook corn in husks

Peel away outer husk instead of actually removing it; remove inner silky thread, then wrap outer husk back around ear
Soak ears in water for at least ten minutes
Pull husk back and apply seasoned butter mixture to corn; pull husk back into place, tying ends if necessary to keep in place.
Place on preheated grill for 15 to 20 minutes, turning occasionally.

Makes 6 servings.
Nutritional analysis per serving:
calories 120
calories from fat 50
total fat 6g
saturated fat 2g
cholesterol 10mg
sodium 105mg
total carbohydrate 17g
dietary fiber 2g
sugars 5g
protein 4g
vitamin A 10%
vitamin C 10%
calcium 0%
iron 2%
Tyra M. Carter, PhD, RD, LD