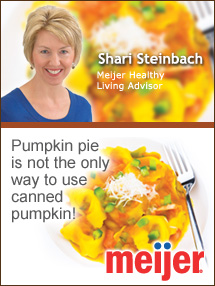 Looking for an easy, affordable and healthy ingredient to add a fall twist to your menu? Try canned pumpkin!
Canned pumpkin is packed with nutrients, and
pumpkin
has been deemed a "super food" because it contains powerful antioxidants known as carotenoids that can protect cells from free radical damage. One cup of canned pumpkin without salt contains 83 calories, 1 gram of fat, 20 grams of carbohydrates, 7 grams of
fiber
and 3 grams of protein. Pumpkin has also been deemed low in cholesterol and
sodium
, and a good source of
magnesium
, copper,
potassium
,
iron
, and vitamins E,
C
,
A
and K.
Ways to Use Canned Pumpkin
Making pumpkin pie is not the only way to use canned pumpkin. Make a delicious smoothie recipe for breakfast or a snack. Blend together chilled pumpkin, milk, vanilla yogurt, and a pinch both sugar and pumpkin pie spice for a tasty treat. You can also add canned pumpkin to your favorite muffin recipe (in place of another liquid, such as oil). Canned pumpkin also works with savory dishes. Try mixing some in stew or chili for a slightly sweet flavor and smooth, creamy texture like in our recipes below.
Recipes
Pumpkin Chili Recipe
Makes 8 servings

1½ lbs. certified Angus beef ground round
1 (15 oz.) can Great Northern beans, drained and rinsed
1 (15 oz.) can black beans, drained and rinsed
2 (14 oz.) cans pumpkin purée
2 (28 oz.) cans diced tomatoes
4 cups natural beef broth
1 large onion, diced
1 large green pepper, diced
2 cloves garlic, diced
3 tsp. cumin
1 tsp. chili powder
1 tsp. salt
1 tsp. pepper
2 tsp. dried oregano

Add ground beef, salt and pepper to a large skillet. Brown meat. Add onion, green pepper, and garlic. Cook until translucent.
Add ground beef and vegetables to a large Crock-Pot. Add beans, pumpkin purée, tomatoes, broth, and spices. Mix well.
Cook on low for 6-8 hours or on high for 4 hours.

Nutrition Information (per serving): Calories 614, Fat 15g, Cholesterol 77mg, Sodium 529mg, Carbohydrate 27g, Fiber 8g, Protein 29g

Serve with: Blue Corn Tortilla Chips
Tortellini with Pumpkin Alfredo Sauce
Makes 4 servings

1 (20 oz.) package of cheese tortellini
1 tbsp. butter
1 small shallot, finely chopped
½ cup canned pure pumpkin
½ tsp. nutmeg
1¼ cups low-fat milk
¼ cup grated Parmesan cheese
Freshly ground black pepper
Chopped fresh parsley

Bring a large pot of water to a boil. Add the tortellini and cook according to package directions. Reserve ½ cup cooking water, then drain the pasta.
Meanwhile, heat the butter in a skillet over medium-high heat. Add the shallot and cook, stirring until soft, about 2 minutes.
Add the pumpkin and nutmeg and cook, stirring, 1 minute. Stir in the milk and bring to a low boil.
Reduce heat to medium-low; simmer, stirring, until slightly thickened, about 5 minutes. Stir in the cheese and cook until thick about 1 minute. Season with salt and pepper to taste.
Add the tortellini to the skillet and toss with the sauce, adding some of the reserved cooking water to loosen, if needed. Divide among bowls and top with grated Parmesan cheese and parsley.

Nutrition Information (per serving): Calories 536, Fat 17g, Cholesterol 95mg, Sodium 732mg, Carbohydrate 72g, Fiber 6g, Protein 26g

Serve with: Tossed Green Salad
Shari Steinbach, MS RD
Fruit & Vegetable Recipes
Video Center: Selection, Storage, and Preparation of Fruits & Vegetables.