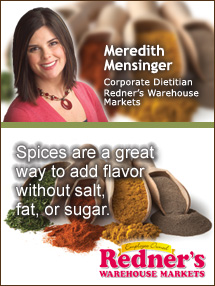 By now we are well aware of the importance of eating fruits and vegetables. Not only does nutrient density of fruits and vegetables contribute to a healthful diet, but the amount of disease-fighting properties is unsurpassable. So … what if there was a way to increase the defenses AND add flavor? There is!

Spices are a great way to add flavor without salt, fat, or sugar. Emerging evidence suggest that spices and herbs not only please our palates, but they even help us maintain good health. Since spices and herbs are derived from plants, they possess comparable levels of antioxidants and similar phytonutrients found in fruits and vegetables. It sounds like a no-brainer to combine two superfoods into one delicious culinary masterpiece, but we are often intimidated by uncharted territory, and unsure of what combinations work well.

Check out these quick ways to spice up your fruits and veggies …
Curry & Yogurt. Mix ½ teaspoon curry powder into 8 ounces plain yogurt to use as great spread in a turkey and vegetable pita sandwich.
Thyme & Asparagus. Sprinkle thyme leaves on steamed or sautéed asparagus along with a twist of freshly ground black pepper and a dash of sea salt.
Rosemary & Omelets. A hearty vegetable omelet is an easy dish to make for breakfast, lunch or dinner. Fill your omelet with vegetables such as asparagus, spinach or tomatoes and crushed rosemary leaves.
Oregano & Sauce. Add a flavor boost to jarred tomato sauce. Stir 1 teaspoon oregano leaves into 2 cups low-sodium jarred tomato sauce.
Cinnamon & Fruit. Sprinkle ground cinnamon onto a fresh fruit salad.
Ginger & Veggies. Add a dash of ginger to cooked carrots, butternut squash, or sweet potatoes.
Thyme & Mushrooms. Thyme brings out the flavor of mushrooms. Sauté 1 pound sliced mushrooms in 1 tablespoon olive oil. Sprinkle with ½ to 1 teaspoon thyme leaves.
Recommended by Wendy Bazilian, DrPH, MA, RD
Meredith Mensinger RD, LDN
Redner's Warehouse Markets
Fruit & Vegetable Recipes
Video Center: Selection, Storage, and Preparation of Fruits & Vegetables.