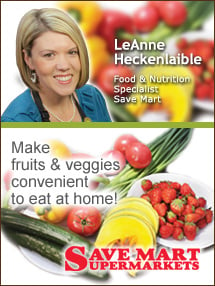 How many fruits and vegetables did you eat yesterday? Hmmm … if you can count on one hand, then I have a few tips for you! The new MyPlate icon from the USDA recommends filling HALF your plate with colorful fruits and vegetables at every meal! Using the MyPlate icon as an example for meal planning and food portion sizes helps increase produce consumption. Fruits and veggies are low in calories, high in vitamins, minerals, phytochemicals, and fiber. Experts suggest that we eat 5-9 servings of fruits and vegetables daily.
Eating 5-9 servings of fruits and vegetables on a daily basis is difficult for many people. Excuses, busy schedules, eating on the run, junk foods – they all conspire to keep us from getting enough fruits and vegetables into our diets.
The solution? Make fruits and vegetables convenient to eat at home! Apples, pears, bananas, oranges, and cherry tomatoes don't need refrigeration. These are great items for a fruit bowl. Just place in plain view on your kitchen countertop or table so when snack time rolls around it's easy to grab a piece of fruit or a handful of cherry tomatoes. Sliced zucchini, cucumber, and bell pepper are also good for snacking and dipping. Yum!
Recipes
Morning: Wake Up to an Energizing Breakfast …
Creamy Coconut Fruit Salad

Add fruit to bowl. In separate small bowl, mix yogurt and juice. Drizzle over fruit; stir and fold gently. Sprinkle with coconut. Serves 2-4

 

Veggie Scramble Toast

1 garlic clove, minced
1 cup EACH sliced mushrooms, zucchini, AND bell pepper
2 cups egg substitute
1 green onion, sliced
1 tomato, diced
4 slices whole wheat bread, toasted
Light buttery spray to taste
1 avocado, peeled and sliced

In medium non-stick skillet, sauté garlic, mushrooms, zucchini, and bell pepper on medium-high heat. Cook 2-3 minutes until slightly tender. Reduce heat to medium-low; add egg substitute, onion, and tomatoes. Cook a few minutes, stirring and folding with spatula to form scramble. Spoon "scramble" on each piece of buttered toast. Top with avocado slices. Serves 4
Noon: Midday Pick-Me-Up Power Lunch …
Greek Pitas with Dill Sauce

1 ½ cups baby spinach
1 tomato, diced
½ cup red onion, thinly sliced
¾ cup garbanzo beans, rinsed and drained
½ cup plain yogurt
1 tablespoon EACH minced garlic AND chopped fresh dill
Salt and pepper to taste
4 whole wheat pita breads, cut in half

Add all ingredients except yogurt and seasonings to medium bowl and mix. In small bowl, mix yogurt, garlic, dill, and salt and pepper to taste. Drizzle sauce over veggies and toss. Stuff each pita pocket with mixture. Serve with fruit salad. Makes 8 pita halves.
Night: Grilled Fruits & Veggies …
Grilled Chicken and Plum Skewers

1 lb chicken breast, cut into 1 ½-inch cubes
4 plums, pit removed, cut into chunks
1 EACH sweet yellow onion, bell pepper, AND yellow squash, cut into chunks
½ cup BBQ Sauce
½ cup Asian Plum Sauce

Coat grill rack with non-stick cooking spray. Preheat grill to medium heat. Thread chicken, plums, and vegetables onto 8 metal or soaked wooden skewers, alternating chicken, plum, & vegetables. In small pot or microwave-safe dish, add BBQ and plum sauce. Heat until hot then stir. Pour ½ cup sauce into small bowl for basting. Grill kabobs 3 to 5 minutes per side or until chicken is cooked thoroughly, turning occasionally and brushing frequently with sauce. Discard basting sauce, if any. Serve with remaining (non-basting) heated, BBQ-plum sauce. Serve with grilled potatoes and a crisp green salad then have grilled peaches & plums for dessert!
LeAnne Heckenlaible
Food & Nutrition Specialist