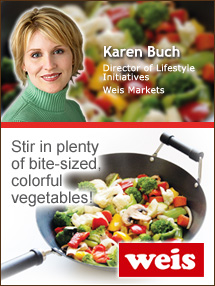 It's easy to get stuck in a rut when you're faced with the daily question of "What's for Dinner?" Why not give stir-frying a try? Stir-frying is one of the quickest and most healthful methods of food preparation.

A wok is helpful, but not necessary. A high-rimmed skillet heated to medium-high heat will also do the trick. It takes just a small amount of oil and a flat-bottomed, wooden spoon to keep everything moving during the cooking process. Just follow these 3 stir-fry steps …
Protein. Select a protein source. Keep it vegetarian by adding cubed, extra-firm tofu or tempeh or add egg, shrimp, scallops, chicken breast or lean pork or beef.
Fruits & Veggies. Stir in plenty of bite-sized, colorful vegetables like broccoli, bell peppers, snow peas or sugar snap peas, carrots, cauliflower, asparagus, mushrooms, baby corn, water chestnuts, bok choy, cabbage and bamboo—just to name a few. You may be able to save money by purchasing fresh produce on sale and washing and chopping all of the items yourself, or save time and opt for a convenient frozen blend of vegetables intended for use in stir fry. You can even add pineapple chunks or diced mango for a sweet burst of flavor, or toss in some nuts or toasted sesame seeds just before serving.
Extra Flavor. Add extra flavor with fresh shredded ginger or crushed garlic, and try making your own stir-fry sauce with broth or stock (along with soy sauce or hoisin sauce) and freshly squeezed orange juice and orange zest. Thicken, if you like, with cornstarch and serve over brown rice, udon noodles or soba noodles.
Check out these step-by-step how to videos on YouTube …
Orange Beef Stir Fry
Shrimp Walnut Stir Fry

Karen Buch, RD, LDN
Director of Lifestyle Initiatives