We all like to feel our best, right?  It's important for us to eat foods that are rich in nutrients and fruit and vegetables are wonderful sources for specific nutrients your body needs to help it function at its best.  Fruits & Veggies–More Matters has pulled together a list of these nutrients and a list of the fruits and/or veggies that carry the label of "high" or "good" sources for them.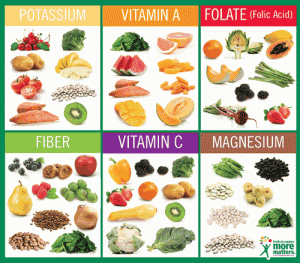 The best way to ensure you're eating a well balanced diet that is packed with all the healthy nutrients your body requires is by following the USDA MyPlate concept.  You'll fill half your plate with fruit and veggies, grains and protein each represent a quarter and dairy represents a circle outside the plate.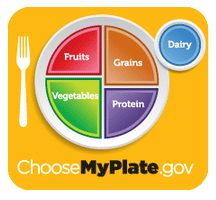 Courtesy of USDA
Fruits & Veggies–More Matters makes it even easier with their featured healthy plates–a collection of dishes based on the MyPlate concept.  Here you'll find a wide variety of entrees, snacks, breakfast ideas, and side dishes.  Get the recipe, nutrition info, cost analysis, and a shopping list for each plate.  I'm featuring a Salmon, Strawberry, and Avocado Rice Bowl, which comes in at 590 calories a serving.  It's a great one dish meal that has a combination of textures, colors, and flavors.  You'll use brown rice, grilled salmon, sliced avocado, sliced strawberries, steamed, fresh spinach, sliced green onions, and toasted sesame seeds.  A sweet/savory teriyaki sauce made with garlic, soy sauce, honey, water, and ground ginger is drizzled on top.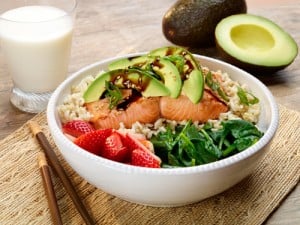 Courtesy of Fruits & Veggies–More Matters
I'm back next Monday with some delicious asparagus recipes for this spring.
See all posts