Make Half Your Plate Fruits & Veggies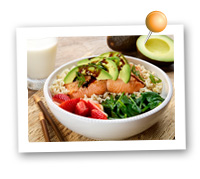 Avocado, strawberries and grilled salmon over brown rice topped with sesame seeds, green onions and teriyaki sauce make for a quick, savory-sweet and delightful one-dish meal.
Recipe Cost for 4 People: $18.81 ($4.70/serving)*
Preparation Time: 1 hour (less if using instant brown rice)
Teriyaki Sauce
1 garlic clove, minced
3 Tbsp less-sodium soy sauce
¼ cup water
1 Tbsp honey
¼ tsp ground ginger
2 cups brown rice
4 salmon fillets (1 pound)
Cooking spray
1 ripe, fresh California Avocado *
1 pound fresh spinach
1 cup sliced strawberries
2 green onions, slivered
1 Tbsp toasted sesame seeds
Red pepper flakes (optional)
*Large avocados recommended for this recipe. A large avocado averages about 8 ounces.

In a small bowl, whisk together teriyaki sauce ingredients; set aside. Cook rice according to package directions. While rice is cooking, coat salmon skin with cooking spray; grill skin side down, until just flaky, about 10-15 minutes. Do not overcook. Slice avocado, removing seed and skin. In a sauce pan with lid, simmer spinach in a small amount of water for about 3-5 minutes until just cooked, drain well. To assemble rice bowls, place 1 cup of cooked rice in each bowl. Arrange salmon, avocado, spinach, strawberries and green onions on rice. Top with sesame seeds and red pepper flakes (if desired). Drizzle teriyaki sauce over each bowl.

Complete this Healthy Plate: Add a glass of non-fat milk.
Serves: 4
Fruits & Veggies per Serving
1 Cup
Nutrition Info
Calories: 510
Total Fat: 18g
Saturated Fat: 2.5g
% of Calories from Fat: 32%
% Calories from Sat Fat: 4%
Protein: 34g
Carbohydrates: 54g
Cholesterol: 70mg
Dietary Fiber: 9g
Sodium: 560mg
Each serving provides: An excellent source of protein, fiber, vitamin A, vitamin C, vitamin D, vitamin E, thiamin, riboflavin, niacin, vitamin B6, folate, vitamin B12, pantothenic acid, potassium, iron, phosphorus, magnesium, zinc and copper, and a good source of calcium.
*Retail prices, Boulder, Colorado, and online, Winter 2016.