Give your kids some hands-on experience in the kitchen, and let the Fruit & Veggie Color Champions™ teach them about the importance of eating a colorful variety of fruits and veggies. These colorful friends guide children on fruit and vegetable exploring adventures that make learning fun. Join the Champions as their escapades take them through games, coloring, puzzles, and rhymes.




Michelle Obama's Let's Move Campaign: See Updates to the Plan to Combat Childhood Obesity
Check Out Our Kids' Website! FoodChamps.org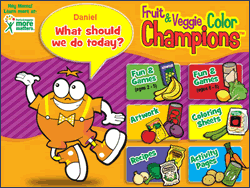 Check it Out! Several of our games on FoodChamps.org are also featured on WebMD's Fit Kids website.
Tips! Top 10 Ways to Get Kids Involved
Whether you're shopping, planning, cooking or simply thinking about fruits and vegetables, your kids can help you out!

In the Kitchen! Cooking with Your Kids
Stir up some fun while teaching your kids science, math, culture and healthy eating habits. Find kid-friendly recipes and more!
Vegetarian Kids – Though it may be a challenge for you to cope with this decision, don't panic!
There are health benefits that come from following a well-planned vegetarian diet.

Activities & Programs – Check here often for local or national fruit & veggie activities and programs that kids will love!
Resource Guides for Parents & Guardians

Quick Fruit & Veggie Resource Guide
We have so much information available for you and your kids right here on the website, but Produce for Better Health Foundation also offers other resources to help your kids learn more about fruits & veggies! Quick Fruit & Veggie Resource Guide [PDF]

Strategies, Tools & Resources to Help You Eat More Fruits & Veggies
Based on Produce for Better Health Foundation's 2012
Behavioral Economics and the Psychology of Fruit and Vegetable Consumption
review [
Read Report
], these strategies, tools and resources are designed to help you and your family eat more fruits and vegetables.
Get Strategies, Tools & Resources [PDF]
Take the Pledge!
Blog: Stem & Stalk … Let's Talk
Ask The Expert about Fruits & Vegetables
FoodChamps.org was made possible through a generous donation from Imagination Farms. The Fruit & Veggie Color Champions™ artwork and downloadables were designed by Kidzsmart Concepts.