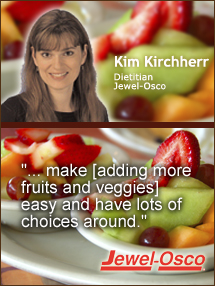 Q: Help! How do I get fruits and vegetables on the menu in a fun way to interest the family?
A: Fruits and vegetables are needed every day for good health because they provide so many good things for the body, like vitamins, minerals, fiber, water – the list goes on and on. Due to the different tastes the choices from both of these groups provide, it's easy to enjoy fruits and/or vegetables at any time of day, even for dessert! To get the family eating the fruits and vegetables they need, here are some ideas for some fun ways to enjoy these delicious, nutritious, and colorful foods every day.
Eye appeal. One of the easiest ways to eat more fruits and vegetables every day is to make it easy and have lots of choices around. Keep a bowl of whole fruit right on the counter, and try having cut up fruit and vegetables on a shelf eye level in the refrigerator instead of tucked in a drawer under other foods. Making time on weekends to pre-cut items saves time during the week, and makes it easier for kids to grab as a snack. On the same refrigerator shelf, try storing a low fat yogurt near the fruit and a fat free or light dressing or even salsa to dip veggies in for a fun treat for kids after school.

Variety. When it comes to eating fruits and vegetables, in addition to fresh, enjoy frozen, canned (in low sodium varieties and juice packed fruit), and dried. All of these are excellent choices that help keep things interesting and save preparation time, and can be changed with the season. Try cold apple slices on a hot day for a snack, dried fruit in oatmeal on cold mornings, or a bowl of steamed veggies with low fat cheese as a side dish that fits in two out of five food groups easily at one meal.

Vegetables for breakfast! Breakfast is a great time to fit in a fruit – or vegetable – serving. Try low sodium tomato juice, an omelet or breakfast sandwich with veggies like spinach, bell pepper, onion, and/or tomato. Salsa makes a great side to scrambled eggs, and a smoothie can easily sneak in carrots, too! If breakfast foods are not favorites, it's ok to do last night's leftovers, or a sandwich topped high with crisp slices of cucumber, along with the usual tomato and lettuce for a snappy start to the day. Take the challenge to get a fruit or vegetable for each meal or snack. It's easy, delicious, and loaded with nutrients.

Produce packs a punch at lunch. Keep salad crisp at lunch by packing light dressing separately from lettuce, layer bell pepper strips on sandwiches, or puree mixed veggies into a broth based soup to pour into a thermos for cold days. It's easier to get in those delicious produce treats than you may think! Encourage kids to help choose new fruits or veggies, and allow them to help by washing, prepping, and creating the meal. Remember to supervise kids in the kitchen!

Kabob a snack. Use pre-cut fruit chunks and alternate with reduced fat cheese chunks and whole grain bread cubes for a super fun after school or pre-workout snack.

A fruity finish. Make dessert a healthy way to end the meal. Try fresh berries with a dollop of frozen whipped topping, or layer cubes of angel food cake with mango chunks and strawberries in a pretty goblet. Dip strawberries or pineapple chunks into melted dark chocolate for a treat that aids with portion control of a fun food (chocolate) while making fruit even more fun to eat.
Kim Kirchherr, MS, RD, LDN, CDE