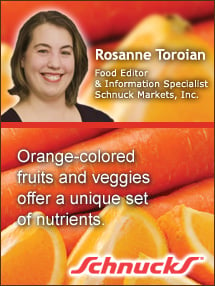 Orange, a symbol of autumn, evokes warmth and tradition in these early chilly months here in the Midwest. From jack-o-lanterns and fall foliage to the full harvest moon and crackling flames in my fireplace on that first frosty evening, orange says comfort.

Now's a great time to fill up on all things orange in the produce aisle to create satisfying comfort food in our kitchen like candied sweet potatoes and pumpkin pie. From carrots and winter squash to persimmons and citrus, vibrant, seasonal orange-colored fruits and vegetables offer a unique set of nutrients for you and your family.

Many orange fruits and vegetables are rich in beta-carotene, a potent carotenoid that's converted to vitamin A in the body. These compounds are associated with helping to protect the eyes, prevent macular degeneration and cataracts, diminish inflammatory conditions such as asthma and arthritis and even possibly reduce the risk of many cancers.

Sweet potatoes, cantaloupe and, of course, citrus such as oranges, tangerines and clemetines, are rich in vitamin C. Necessary to help build strong bones, skin, blood vessels, muscle and cartilage, vitamin C also aids in the absorption of iron. Rich in fiber, these foods help to make you feel full and aid in digestion.

Eat "orange"—just a serving a day will get you one step closer to meeting your daily requirement of nutrients for better health.

Butternut Squash Recipes

Roasted Butternut Squash
1 medium butternut squash (about 2 pounds), peeled, seeded and cut into 1-inch chunks
1 medium onion, cut into 1-inch chunks
2 tablespoons brown sugar
2 tablespoons extra virgin olive oil
1 teaspoon salt
½ teaspoon pumpkin pie spice
Preheat oven to 425°F. In large bowl, toss all ingredients together until well combined. Spread squash mixture in single layer in large rimmed baking pan. Roast 40 to 50 minutes or until squash is very tender and golden brown. Makes 4 cups.

Puréed Butternut Squash Soup

Prepare Roasted Butternut Squash as directed. In blender, with center part of lid removed to allow steam to escape, purée squash mixture with 1 carton (32 ounces) less-sodium chicken broth in batches until smooth. Transfer soup to saucepan; heat through. Makes 6½ cups.
Rosanne Toroian
Food Editor & Information Spet
Fruit & Vegetable Recipes
Video Center: Selection, Storage, and Preparation of Fruits & Vegetables.