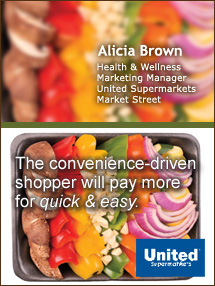 To meet the needs of busy shoppers, many manufacturers and retailers are offering new convenience items: meals to go, quick-cooking grains, chopped, peeled and washed vegetables, prepared meats and individually-packed snacks. A simple dinner can easily be made in 10 minutes or less. But is the convenience worth the cost?
Many times, we do pay for the convenience. After all "time is money" right? But are we sacrificing anything? How much more am I paying? How much time am I really saving? Is the nutrition different? These are all good questions to consider. Depending on the type of shopper you are, two things will typically drive the cart: cost and convenience or quality.
Who is the shopper that is strictly driven by price? These shoppers are less concerned with quality and convenience and are willing to sacrifice time to get the best bargain. These shoppers love a good deal, hunt for coupons and can list off each store's house brand faster than they can name their own kids. These are savvy shoppers.

Who is the shopper that is driven by convenience? These shoppers do not have time to make anything and are not interested in reading recipes. They are willing to pay a little more so that they do not have to stew, braise, sauté or broil. The less preparation and clean up there is the more willing they are to pay for the convenience.

So how do we know whether to choose the packaged shredded cheese or shred our own? There are a few things to consider before making that final decision:
How much waste is there? If you are buying fresh carrots or broccoli, consider that you'll pay for the entire weight but you'll throw away the stems.
How much time will it save overall? Don't just consider the cooking time but the preparation and clean up as well. A prepared rotisserie chicken can be heated and cleaned up pretty quickly. A raw whole chicken will have to be seasoned, a pan dirtied, the oven heated and the pans cleaned.
Is the nutrition different? One downfall of some convenience foods is the amount of sodium, fat or sugar added. Check that the convenience has not thrown your good health intentions out the window.
So let's compare a few items and determine if the cost is worth the convenience:

Group

Food

Quantity

Product

Cost

Product
Benefit

Grains
Rice
14oz
Uncle Ben's Fast and Natural Instant Brown Rice
$2.95
Save $0.23
Uncle Ben's Whole Grain Brown Ready Rice
$3.18
Save ~8 ½ min.
Meat
Chicken
2 lb.
Pilgrim's Pride Whole Fryer Chicken
$1.78
Save $3.21
Rotisserie Chicken
$4.99
Save ~1 ½ hrs
Fish
6.3oz
Fresh Tilapia
$3.54
Save $0.45
Gorton's Frozen Grilled Tilapia
$3.99
Save ~15 min.
Dairy
Cheese
7oz
Kraft 2% Milk Colby and Monterey Jack
$2.69
Save $0.10
Finely Shredded Kraft 2% Milk Mexican Style Cheddar Jack
$2.79
Save ~7 min.
Yogurt
32oz
Stoneyfield Organic Low fat Strawberry Yogurt (32oz Tub)
$3.87
Save $1.20
Stoneyfield Organic Low fat Strawberry Yogurt (6oz Cups)
$5.07
Individual Servings
Produce
Apple
10.8oz
Gala Apples
$0.87
Save $3.72
Chiquita Juicy Red Apple Bites (5 Individual Bags)
$4.59
Save ~5 min.
Bell Pepper
10oz
Fresh Green Bell Pepper
$2.00
Texture differences
Frozen Food Club Diced Green Bell Pepper
$1.39
Save $0.61 and ~3 min.
Butternut Squash
8oz
Fresh Whole Butternut Squash
$0.50
Save $3.09
Fresh Cut and Peeled Butternut Squash
$3.59
Save ~15 min.
Carrots
2lb
Bagged Whole Carrots
$1.29
Save $1.70
Peeled and Washed Baby Carrots
$2.99
Save ~10 min.
Garlic
4.5oz
Fresh Garlic
$1.00
Save $0.59
Minced Garlic
$1.59
Save ~3 min.
Mushroom
8oz
Whole Fresh Mushrooms
$1.79
Save $0.20
Sliced Fresh Mushrooms
$1.99
Save ~5 min.
Onion
7oz
Fresh Yellow Onions
$0.43
Save $1.56
Gill's Onions- Fresh Diced Yellow Onions
$1.99
Save ~5 min.
Pineapple
1 Fruit
Fresh Whole Pineapple
$3.99
No Refrigeration
Fresh Cored and Peeled Pineapple
$3.99
Save ~8 min.
Potato
24oz
Fresh Russet Potatoes
$1.19
Save $2.50
Frozen Ore-Ida Steam and Mash Cut Russet Potatoes
$3.69
Save ~45 min.
Potato
20oz
Fresh Russet Potatoes
$0.99
Save $0.60
Simply Potatoes Diced Potatoes with Onions
$1.59
Save ~15 min.
Romaine Lettuce
10oz
Head of Romaine
$1.50
Save $1.49
Washed & Chopped Hearts of Romaine in Sealed Bag
$2.99
Save ~15 min.
Sweet Potato
10oz
Fresh Sweet Potatoes
$0.62
Save $1.33
Stahlbush Frozen Diced Sweet Potatoes
$1.95
Save ~15min.
Juice
Apple Juice
64fl oz
Juicy Juice All Natural 100% Juice (64fl oz Bottle)
$2.15
Save $1.85
Juicy Juice All Natural 100% Juice (8-4.3oz Boxes)
$4.00
Individual Servings
Orange Juice
64fl oz
Minute Maid Original Frozen Concentrated (Reconstituted)
$1.99
Save $0.70
Minute Maid Premium 100% Pure Squeezed Original
$2.69
Save ~3 min.
Snacks
Applesauce
23oz
Mott's No Sugar Added Natural Applesauce (23oz Jar)
$1.79
Save $0.36
Mott's No Sugar Added Natural Applesauce (6-3.9oz Cups)
$2.15
Individual Servings
Pudding
24oz
Jell-O Sugar Free Fat Free Instant Pudding Mix
(Made w/ 2 cups Red River Farms Fat Free Milk)
$1.89
Save $1.11
Jell-O Sugar Free Pudding Cups
$3.00
Save ~5 min.
Raisins
24oz
Sun-Maid Natural California Raisins (24oz Container)
$3.69
Save $1.62
Sun-Maid Natural California Raisins (6-1.5oz Boxes)
$5.31
Individual Servings
Product research completed by Danielle Gemoets, TWU Dietetic Intern.
Alicia Brown MS, RD, LD
Health and Wellness Marketing Manager
United Supermarkets / Market Street
Fruit & Vegetable Recipes
Video Center: Selection, Storage, and Preparation of Fruits & Vegetables