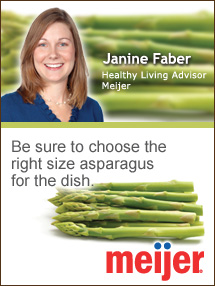 Spring brings baseball games, graduation parties, and Memorial Day cookouts. It also brings one of the first spring vegetables: asparagus. One of my favorite veggies, asparagus, is extremely versatile – pairing nicely with fish, beef, shrimp, veal, chicken, and pasta, while also refreshing just served by itself. It can be prepared for breakfast in frittatas, or in appetizers, soups, salads, wraps or entrées.

These spears are full of health benefits. Think of this spear-shaped vegetable as fighting and protecting against certain cancers because of its rich source of antioxidants which assist in protecting cells. Asparagus also has impressive amounts of folate, which is supportive of a healthy pregnancy. It's also a good source for fiber and contains vitamins A, B6, C and K.

When choosing asparagus for recipes, be sure to choose the right size for the dish. While the larger stalks are good for grilling, steaming and roasting, the smaller, skinnier stalks are great for pasta dishes, risotto and similar recipes.

May is National Asparagus Month – a perfect time to discuss asparagus! Celebrate the month by making the following asparagus recipes at your upcoming weekend parties and cookouts or for a weekday meal.

Recipes
Fiery Grilled Asparagus
Servings: 4

Ingredients

1 lb. asparagus
1 tbsp. crushed red pepper flakes
2 tbsp. olive oil
2 tsp. rice wine vinegar
1 tbsp. sesame seeds, toasted
1 tsp. sugar

Directions

Coat clean grill rack with nonstick cooking spray. Preheat grill to medium (300° F to 350° F).
Trim and discard tough ends of asparagus.
Combine asparagus, olive oil, red pepper flakes, vinegar, sugar, and salt and pepper to taste in large shallow dish. Marinate 15 minutes.
Grill 5 to 6 minutes, turning once. Arrange grilled asparagus on platter and sprinkle with toasted sesame seeds.

Nutrition information per serving: 71 Calories, 5g Total Fat, 1g Saturated Fat, 7mg Sodium, 5g Total Carbohydrates, 3g Fiber.

Recipe source: TryFoods International
Pesto Chicken Pasta
This one-dish meal makes dinnertime easy.
Makes: 6 servings

Ingredients

8 ounces uncooked whole wheat farfalle (bow tie) pasta
2 cups cut-up fresh or frozen Michigan asparagus
3 cups (12 ounces) cubed, cooked chicken
1 cup halved cherry tomatoes
⅓ cup chopped red onion
1 (2.25-ounce) can sliced ripe olives, well drained
¾ cup prepared pesto sauce
3 tbsp. freshly shredded or grated Romano cheese

Directions

Cook pasta according to package directions; rinse and drain.
Steam or microwave asparagus until tender crisp. Drain. Combine cooked pasta and asparagus in a large bowl. Stir in chicken, tomatoes, onion and olives. Gently toss with pesto sauce. Serve warm, garnished with cheese. Refrigerate leftovers; they make a great lunch.

Recipe courtesy of Michigan Asparagus Advisory Board.
Grilled Asparagus, Tomato & Blue Cheese Salad
Serves 4

Ingredients

1lb. asparagus
1 cup grape tomatoes
2 tbsp. Meijer Extra Virgin Olive Oil, divided
¼ cup Meijer Organics Crumbled Blue Cheese
¼ cup thinly sliced red onion
1 garlic clove, minced
1 tbsp. balsamic vinegar
1 tbsp. finely chopped fresh basil

Directions

Preheat grill to medium (300-350° F).
Thread asparagus onto 2 or 3 parallel skewers to hold them together during grilling. Thread tomatoes onto 2 skewers. Brush vegetables with 1 tbsp. oil, and season with salt and pepper to taste.
Place skewers on grill. Grill 5 minutes, turning occasionally. Remove skewers from grill, and remove vegetables from skewers. Cut asparagus into 2-inch pieces.
In a medium bowl combine asparagus, tomatoes, blue cheese, onion and garlic; toss to combine. Drizzle with remaining 1 tbsp. oil plus vinegar, toss.
Season with salt and pepper to taste; sprinkle with basil, and serve.

Recipe courtesy of the Meijer May/June Healthy Living Naturally Booklet.
Do you want to know what my all-time favorite asparagus recipe is? Simply roasting asparagus with a sprinkle of olive oil, mixed with a little minced garlic in the oven at 400 degrees for approximately 10 minutes. Delish!

Enjoy the flavors of the season!
Janine Faber, MEd, RD, LD