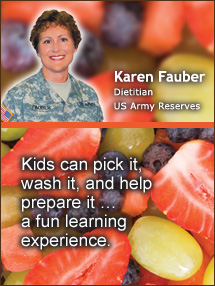 The heat is on in more ways than one as the dog days of summer are here. Trying to stay cool along with pleasing your family's palate is possible while choosing some of the refreshing summer fruits that are in abundance this time of year.

If you are trying to watch your weight this summer, eating fresh fruit can help you do just that. Growing evidence shows that eating fruit for snacks and at meals can help you lose weight while providing many of the nutrients including antioxidants that your body needs. Fresh fruit is low in calories and high in water, which means it helps fill you up without filling you out. Some fruits are also high in fiber, another bonus for those trying to win the weight battle.
Bursting with colors, textures, and variety makes choosing fruits an adventure for the whole family. When shopping, have your children pick out the fruit and add it to the cart. At home they can wash and help prepare it, making it a fun learning experience. Here are some fun fruits the whole family will enjoy.
"Go Go" Grapes
Grapes contain vitamins C and K, calcium, along with more than 20 antioxidants found in the red, purple, and black varieties. For a delicious treat, try freezing grapes and eating them with a little powdered sugar sprinkled on for color. 15 grapes have about 60 calories for those of us that are counting calories.

"Punching" Papayas
Look for papayas that have a ripe, yellow skin that yields to a little pressure. Along with being an excellent source of vitamins A and C, potassium, and fiber, papayas are high in antioxidants. Eating papayas may help prevent heart disease and colon cancer. With an unripe papaya try ripening it in a paper bag for a day or two at home. Add chunks of papaya to salads and salsa for a tropical treat.

"Mighty" Mangoes
Mangoes are high in vitamins A, C, and B6, along with potassium. Rich in antioxidants, they are the most popular fruit in the world. With only 110 calories in one mango, you can eat a whole one for a snack without any guilt. Try adding some mango chunks to a salad, yogurt, cereal, and salsa for a change.

"Wobbling" Watermelon
A true American treat, watermelon is full of water, and only 45 calories in one cup. What it does have is vitamins A, C, and B6, along with potassium and the amino acid citrulline. Eating watermelon helps the heart and arteries work well due to the amino acids found in it according to USDA studies. Watermelon is higher in lycopene, an antioxidant, than any other fruit or vegetable, including tomatoes. Try adding watermelon to a salad, or a salsa for a refreshing treat.

"Bongo" Berries
Blueberries, strawberries, blackberries, and raspberries are all high in vitamin C which helps the immune system. According to one major study berries have been found to have the most antioxidants of any fruit. Both blueberries and strawberries have been found to be good for the mind and the memory. With only 80 calories in a cup, try adding them to cereal, yogurt, salad, and salsa.
Dietitian, Corporate Communications
Defense Commissary Agency