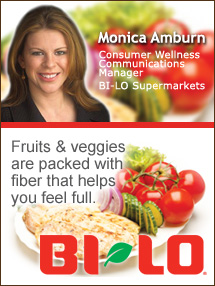 Now is the perfect time to get in the groove of great health habits like exercising regularly and drinking more calorie-free fluids throughout the day. But one of the most important habits you can adopt for better health is to regularly fill half of your plate with fruits and vegetables at meals and snacks.

The half plate concept is a great strategy for weight loss/management, as fruits and vegetables are packed with fiber and fluid that help you feel full throughout the day and reduce temptation to munch on high-calorie snacks. And fruits and vegetables are loaded with vitamins, minerals and antioxidants that our bodies need for good immunity and great energy levels.

Here are some of my favorite ways to easily sneak in more fruits and vegetables daily …

Breakfast
Oatmeal & Berries. Add 1 cup of berries to hot oatmeal. Fresh or frozen berries are both great to use. If frozen, thaw berries in refrigerator overnight for quick morning preparation.
Veggie Omelet. Add a handful of diced onions, mushrooms and green peppers to scrambled eggs or an omelet for a boost of flavor and fiber.
Yogurt & Fruit. Add 1 diced peach to a cup of vanilla nonfat Greek yogurt.
Lunch
Soup & Sandwich. Instead of chips, have a cup of hearty vegetable soup as a side to your usual sandwich.
A Colorful Wrap. Dress up your sandwich or wrap with a handful of baby spinach and/or sliced bell peppers.
Chicken Salad & Fruit. For a punch of fresh flavor, add diced dried plums, sliced grapes, and/or diced green apples to your typical chicken salad recipe.
Dinner
Season Your Sides. Don't forget to season vegetable side dishes with herbs and spices. Broccoli can be transformed from bland to brilliant when tossed with a bit of fresh garlic, fresh ground pepper, and a dab of olive oil.
Frozen Veggies, Quick Prep. Keep your freezer well stocked with a variety of frozen vegetables, especially the microwavable "steam-in-bag" veggies. This allows for quick and easy dinner prep, and you don't have to worry about spoilage waste. Plus if they're on hand, you don't have an excuse not to eat them!
Stock Up on Cans. Stock your pantry with canned fruits and veggies. Try canned pineapple with your teriyaki chicken, canned tomatoes in your goulash or chili, spaghetti sauce on pasta, or simply use canned corn, green beans, pears, or mixed fruit as a fast side dish!
Snacks
Protein & Fruit Pairs. Pair fresh fruit with a bit of protein like mozzarella string cheese, a tablespoon of peanut butter, or Greek yogurt to help keep your energy levels high until your next meal.
Juice, Cheese & Crackers. Low-sodium vegetable juice or tomato juice is a great complement to reduced-fat cheese and whole-grain crackers.
Baggie Full of Veggies. Toss a baggie of sliced veggies in your lunchbox along with two tablespoons of reduced-fat dressing.
Monica Amburn, RD, LD
Consumer Wellness Communications Manager