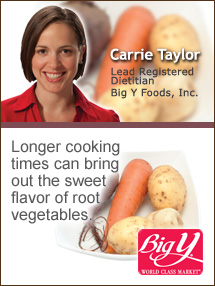 Seasonal vegetables may be hard to find during the winter months, but if eating local interests you, there is hope — add root vegetables and excitement to traditional winter recipes!

Root vegetables like potatoes, carrots and beets thrive in cooler weather and are harvested throughout fall and winter. Not only are they considered "in season," they can be fairly inexpensive and last up to three (3) weeks when stored in a cool place. With the high amounts of folate, vitamin C, fiber and potassium found in most root vegetables, they also pack a powerful nutrient punch!

Afraid root vegetables will taste bitter? Longer cooking times can bring out the sweet flavor.

Here's how you can prepare different roots using classic cooking methods …
Grill. Nothing's more satisfying than crunching into delicious root vegetables. Cut carrots, potatoes and onions into thick slices or wedges and cook over an open flame.
Roast. Simply toss a peeled and diced root vegetable, like turnip, in olive oil and balsamic vinegar and bake for 30 minutes at 425° F.
Mash. Mashed potatoes are a staple in cold weather dining. Combine potatoes with parsnips, as shown in the recipe below, for a unique spin on this family favorite.
Or create new versions of old standards …
Chips. Transform the standard potato chip by baking homemade beet chips. Thinly slice beets, drizzle with olive oil, season with sea salt and bake at 425° F until crisp.
Fries. Basically any root vegetable can be used for homemade fries, but a well-known substitute is sweet potato. Sweet potatoes are served in kitchens everywhere. Why not yours?
Hash Browns. Throw your taste buds for an invigorating spin by grating your own version of traditional hash browns with parsnips and rutabagas.
Soup. Dice virtually any root vegetable into a hearty stew or show off your culinary skills by puréeing celery root and cooking your very own cream of celery soup.
Recipe
Mashed Root Vegetables
Serves: 6

Ingredients

½ pound sweet potatoes, peeled and cubed
½ pound parsnips, peeled and cubed
½ pound celery root, peeled and cubed
1 pound potatoes, peeled and cubed
Salt, to taste
Ground white pepper, to taste
3 tablespoons butter
½ cup low-fat milk

Directions

Preheat oven to 400° F.
In a mixing bowl, toss sweet potatoes, parsnips and celery root with oil. Season with salt and pepper.
Place on a baking sheet and roast for 25 minutes or until golden brown.
In a large saucepan cover potatoes with water.
Bring to a boil then reduce heat to medium. Cook until tender, about 12 to 15 minutes. Drain and return potatoes to pan.
Add roasted vegetables, butter and milk. Mash until smooth and season to taste.
Written by…
Carrie Taylor, RD, LDN
Lead Registered Dietitian for the Living Well Eating Smart Program
Big Y Foods, Springfield, MA
In collaboration with …
Christine Waltersdorf
University of Massachusetts Dietetic Intern