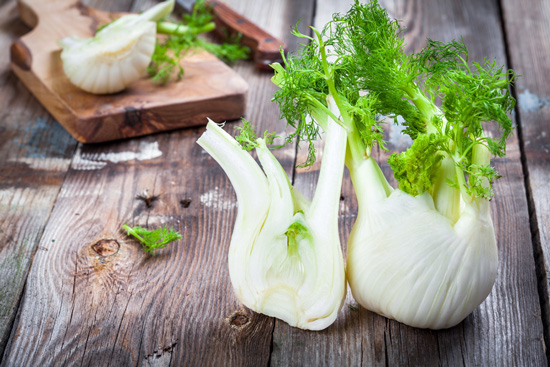 The fennel plant is a white bulb with long, light green stalks. The stalks are covered with feathery, dark green leaves which closely resemble dill. The entire plant (bulb, stalk, leaves, seeds, and even pollen) are all edible and delicious. Fennel is a cousin to parsley, carrots, dill and coriander.

The bulb, which looks like a cross between celery and a white onion, is a little sweet and very crunchy. When raw, it has a crisp taste which adds freshness to dishes. The delicate flavor is often compared to licorice or star anise and can be found in both Italian and Mediterranean cuisine. When using the bulb, don't forget to remove the hard core in the center.

The leaves are often used as a garnish. Chopped fennel leaves make a tasty and unexpected addition to dishes like chicken salad. You can use the plumy leaves with other fresh herbs like dill and tarragon. The stalks also make a great component to homemade stock or soup. Fennel seeds are often used in Italian sausage, and Middle Eastern and North Indian cuisine regularly feature the seeds in spice mixtures.

Fennel Nutrition, Selection & Storage
Fennel is a good source of vitamin C, potassium, and fiber. It is also fat-free, cholesterol-free, and naturally low in sodium. This refreshing veggie is found on grocery shelves from autumn to spring. Look for firm, unblemished bulbs with bright green leaves. Refrigerate fennel in a plastic bag up to five days. It pairs well with citrus, other spring vegetables like carrots or arugula, or all on its own. Below are some recipes to help you get outside your veggie comfort zone!

Recipes
Fennel Soup with Smoked Salmon
Serve this simple but luxurious soup at your next special gathering. If you don't have leftover mashed potatoes, use prepared mashed potatoes, available in the refrigerated section.

Ingredients

1 fennel bulb
½ onion
1 tbsp. olive oil
2 ½ cups vegetable broth
1 cup mashed potatoes
4 slices smoked salmon
2 tbsp. chopped fresh dill

Directions

Roughly chop the fennel bulb and onion and sauté in olive oil. Add vegetable broth and cook until vegetables are soft, about 5 min.
Whisk in 1 cup mashed potatoes and purée soup with an immersion blender. Simmer for an additional 10 min. on low heat. Ladle the soup into 4 bowls. Cut smoked salmon into strips and divide among the bowls. Top with chopped fresh dill.

Orange, Carrot, and Fennel Salad
Serve with grilled tofu to make a great vegetarian main dish—or pair with salmon for a brilliant and tangy light lunch.

Ingredients

1 bag ( 5 oz. ) arugula
1 ½ cup julienned or shaved carrots
1 cup thinly sliced fresh fennel
1 tablespoon finely minced shallot
½ teaspoon fennel seed
1 tablespoon extra-virgin olive oil
1 tablespoon fresh orange juice
1 teaspoon honey
1 teaspoon white wine vinegar
2 small navel oranges, sectioned
pinch of salt
ground black pepper to taste

Directions

In a large bowl combine arugula, carrots, and fennel; toss gently to combine.
For the dressing: in a small bowl combine shallot, fennel seed, oil, orange juice, honey and vinegar. Drizzle over arugula mixture; toss to coat.
Place salad on 4 serving plates. Top evenly with orange sections. Season with freshly ground pepper to taste, and serve.
Rabiya Bower, RD, LDN
In-Store Nutritionist
Giant Food Stores
Insider's Viewpoint Archive
Fruit & Vegetable Recipes
Video Center: Selection, Storage, and Preparation of Fruits & Vegetables.