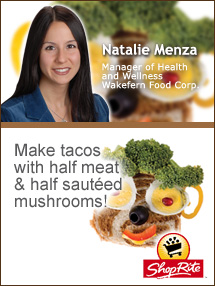 Fruits and vegetables are an essential part of a child's diet because they provide
vitamins, minerals and fiber
without a lot of calories or fat. But let's face it, kids can be picky when it comes to eating healthfully. So, how do you get your child to eat a rainbow of foods? Offer a
fruit
or
vegetable
at every meal and snack.
12 Healthy Meal & Snack Ideas for Kids
Breakfast
Many people skip this important meal because they're short on time. Fix this problem with quick and easy breakfasts, or simply prep ahead.
Add chopped fruit like berries, bananas or apples to oatmeal, yogurt, cold cereal or cottage cheese. Or use the fruit as a topping for whole-grain waffles or pancakes.
Make a batch of low-fat muffins and add in your favorite fruit like bananas, blueberries, raisins or chopped apples. This is a simple grab-and-go breakfast for any day of the week.
Lunch
Include your kids when preparing and packing their lunch. Have fruits and veggies on hand so you can suggest healthier sides and snacks. If your kids buy school lunch, review the options together and encourage them to try something new.
Toss steamed or roasted vegetables like broccoli, carrots, eggplant and spinach into whole-grain pasta, then top with sliced chicken.
For added crunch, include sliced veggies like cucumbers, tomato, lettuce, and carrots on sandwiches.
Pack a thermos of soup that's full of vegetables such as minestrone or vegetable barley.
Provide sides like applesauce, a fruit cup packed in 100% juice, or a piece of whole fruit.
Snacks
Whether it's a snack during or after school, include fruits and vegetables to give kids the energy they need to get through the day.
Carrot and celery sticks with peanut butter or hummus.
Squeezable applesauce pouches, small raisin boxes, or trail mix made with mixed dried fruit.
A 100-calorie guacamole packet with baked tortilla chips.
Dinner
Family dinner is the perfect time for you to be a healthy food role model. Show your kids how you enjoy eating healthfully.
Salads, stir fry and soups are perfect ways to load up on vegetables. You can also add fruits like diced apples and strawberries to a salad, or try orange segments in stir fry.
Make meatloaf, tacos or lasagna with half ground meat and half sautéed mushrooms for extra fiber and lots of flavor.
Natalie Menza, MS, RD
Manager of Health and Wellness
Wakefern Food Corporation
Fruit & Vegetable Recipes
Video Center: Selection, Storage, and Preparation of Fruits & Vegetables.