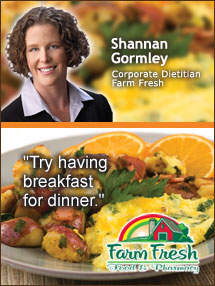 When the temperature rises outside, few people want to turn on the oven inside. Don't let the summer heat slow down your family's healthy eating habits! With a little creativity, you can make great tasting meals that are light, sensible and easy by combining every day items to create a one-pan dinner.

Try these simple dinner solutions to make a delicious meal without turning on the oven.
One-Pan Dinner Ideas
Not sure what to do with extra tomatoes, peppers, onions and cucumbers? Blend these tasty vegetables together with garlic and spices for a cool gazpacho soup.
Try having breakfast for dinner. Make a fabulous frittata in a skillet using sliced potatoes, eggs, cheese and chopped vegetables.
One-pan Dinner Du Jour: Garlic Ginger Stir Fry
Total Time: 30 to 45 minutes
Serves: 4 to 6 people
Ingredients:

2 each boneless, skinless chicken breast
"Less Sodium" Teriyaki Sauce
1 Tbsp fresh chopped garlic (jar or fresh)
1 Tbsp fresh chopped ginger (jar or fresh)
2 tsp canola oil
2 tsp sesame oil
Chopped vegetables: snow peas, carrots, broccoli, Chinese cabbage, frozen edamame, canned pineapple chunks
1 cup brown rice

Directions:

Cook brown rice separately in pot. (Note: Start with rice first, as it may take up to 45 minutes to cook)
Heat large skillet or wok over medium to high heat with oil.
Chop chicken into small strips or cubes. Brown the chicken in pan until no longer pink. Set chicken aside.
Add vegetables with oil and garlic into pan and stir 4-5 min. Add cooked chicken back into pan.
Cook until all ingredients are heated through, approximately 1-2 minutes.
Serve hot over brown rice and enjoy.

Nutrition Analysis per Serving:
194 calories
4 grams total fat
0.5 grams saturated fat
0 grams trans fat
15 mg cholesterol
125 mg sodium
27 grams total carbohydrates
2 grams dietary fiber
10 grams protein
Shannan Gormley, MS Ed, RD
Farm Fresh Food & Pharmacy