Make Half Your Plate Fruits & Veggies



MyPlate Challenge: Show us how you're following the MyPlate guidelines and make one of these plates (or another healthy plate), take a pic, and pin it to our Pinterest board!



Make this Chicken & Broccoli Dinner Plate


Herbed Chicken w/Broccoli Get Recipe


Whole Wheat Roll


Milk



Plate Cost for 4 People


$10.98 ($2.74/serving)*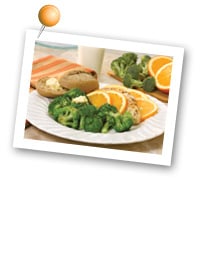 Fruits & Veggies per Serving


1.5 Cups


Fruit/Veggie Color(s)



What's This?

Featured Recipe


Herbed Chicken w/Broccoli


Recipe Cost for 4 People: $9.54 ($2.38/serving)*

Nutrition Info
Calories: 380
Total Fat: 9g
Saturated Fat: 2g
% of Calories from Fat: 23%
% Calories from Sat Fat: 5%
Protein: 38g
Carbohydrates: 39g
Cholesterol: 75mg
Dietary Fiber: 6g
Sodium: 440mg
Each Serving Provides: An excellent source of protein, dietary fiber, vitamin A, vitamin C, vitamin D, thiamin, riboflavin, niacin, B6, folate, B12, pantothenic acid, potassium, calcium, phosphorus, magnesium, and iodine, and a good source of iron and zinc.



Learn More About Broccoli


See Nutrition Info, Selection & Storage Tips



Learn More About Oranges


See Nutrition Info, Selection & Storage Tips

Grocery List for this Meal
Fresh Produce
1 1-lb package broccoli florets
2 navel oranges
Dairy
1 quart non-fat (skim) milk
1 8-oz tub vegetable spread
Meat
1 lb boneless, skinless chicken breast
Baking/Cooking
Garlic herb blend
Bread
Whole wheat dinner rolls
*Retail prices, Boulder, Colorado, August 2011
**Winner chosen weekly.