Make Half Your Plate Fruits & Veggies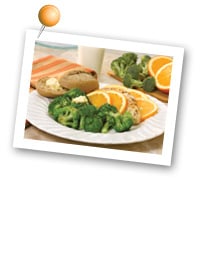 Mixing it up with fruits and vegetables on the same plate is deliciously satisfying with this one-skillet family-friendly recipe.
Recipe Cost for 4 People: $9.54 ($2.38/serving)*
Preparation Time: 30 minutes

4 boneless chicken breasts (about 1 pound)
2 tbsp garlic and herb blend (like Mrs. Dash)
2 tbsp Country Crock® Spread, divided
½ cup water
4 cups fresh broccoli florets
2 oranges, sliced

Coat chicken breasts with herb blend. Melt 1 tbsp Country Crock® Spread over medium heat in a 12″ skillet (with lid – for cooking broccoli). Add the coated chicken and brown on both sides. Reduce heat slightly, and cook chicken until done, turning a couple times. Remove chicken from skillet; add water and broccoli to skillet, cover with lid. Bring to boil, reduce heat, cover, and simmer about 3 minutes until broccoli is slightly tender, yet still bright green. For each individual plate, place 1 chicken breast on plate and garnish with orange slices. Mound broccoli next to chicken and dab with remaining Country Crock® Spread.

Complete this Healthy Plate: Serve with whole wheat roll (add a dab of Country Crock® Spread) and an 8 oz glass of nonfat milk.
Serves: 4
Fruits & Veggies per Serving
1.5 Cups

Fruit/Veggie Color(s) [What's This?]

Nutrition Information per Serving:
Calories: 220
Total Fat: 7g
Saturated Fat: 1.5g
% of Calories from Fat: 30%
% Calories from Sat Fat: 6%
Protein: 26g
Carbohydrates: 14g
Cholesterol: 75mg
Dietary Fiber: 4g
Sodium: 220mg
Each serving provides: : An excellent source of protein, vitamin A, vitamin C, riboflavin, B6, pantothenic acid, potassium, and phosphorus, and a good source of dietary fiber, thiamin, niacin, folate, and magnesium.
*Retail prices, Boulder, Colorado, August 2011