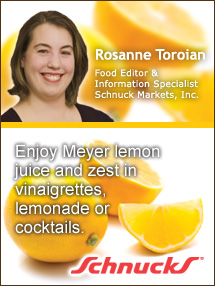 Over 100 years ago, Frank Meyer traveled through China while on assignment with the USDA procuring plant specimens to ship back to the States. He introduced us to numerous plants, vegetables and seeds. One notable acquisition: the Meyer lemon tree, named for the man who "discovered" this unique citrus fruit with a sweet-tart personality.

A cross between a lemon and an orange (possibly a Mandarin orange), a Meyer lemon is thin-skinned with a smooth, tender peel; it has less white pith than a typical lemon. When ripe, Meyer lemons appear to have a yellow-orange appearance. Plump and filled with a slightly sweeter juice, Meyer lemons can be substituted when a recipe calls for conventional lemons, though the end result may be less tart and acidic.

Enjoy Meyer lemon juice and zest in vinaigrettes, lemonade or cocktails. Meyer lemons make a delicious aioli, lemon curd, pie, pound cake or shortbread cookies, or simply squeeze over chicken and seafood.
Meyer Lemon Vinaigrette

1 Meyer lemon
1 small shallot, minced (2 tablespoons)
1 tablespoon honey
1 tablespoon white balsamic vinegar or white wine vinegar
½ teaspoon finely chopped fresh thyme or rosemary leaves
¼ teaspoon salt
¼ teaspoon freshly ground black pepper
1 tablespoon extra virgin olive oil

Grate the peel of the lemon and squeeze its juice into medium bowl. With whisk, stir in shallot, honey, vinegar, thyme, salt and pepper. Slowly whisk in oil until emulsified. Toss with blanched snap or snow peas, asparagus, green beans, broccoli, cauliflower and carrots, or add to sliced steamed beets, cucumbers, mushrooms, bell peppers and tomatoes.
Rosanne Toroian
Food Editor & Information Specialist

Schnuck Markets, Inc.
Fruit & Vegetable Recipes
Video Center: Selection, Storage, and Preparation of Fruits & Vegetables.