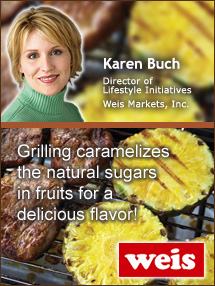 Sure, you may know you can grill vegetables like mushrooms, grape tomatoes, onions, sweet bell peppers, zucchini and summer squash. But, have you ever tried grilling fruit?

Try using a gas or charcoal grill to caramelize the natural sugars found in both fruits and vegetables for delicious flavor!

6 Easy Steps to Grilling Fruit

1. Brush to clean cool grill grates and, if desired, spray with non-stick cooking spray especially designed for use on a grill.

2. Begin heating the grill. Reduce the flame just before adding fruit to create great grill marks, while minimizing the chances of sticking or burning.

3. Slice peaches, nectarines or plums in half. Remove the pit and place on the grill, pulp-side down, turning as needed. Also, try grilling fresh pineapple sliced into rings or sticks. All of these fruits provide an ample supply of vitamin C and fiber. Other popular grilled fruits include bananas (sliced lengthwise), pears and apples.

4. For easier turning, consider skewering fruit kabobs or filling a grill basket with your favorite mixture of fruits before grilling. Remember to keep the size of the fruit pieces large enough to prevent falling through the grates.

5. Heat the fruit just well enough to soften the texture and bring out the irresistible flavor. Half-inch thick fruit slices take only about 3 to 5 minutes to cook.

6. Enjoy fruit alone, drizzled with honey or maple syrup, sprinkled with brown sugar or topped with a spoonful of creamy vanilla ice cream!
Director of Lifestyle Initiatives
Fruit & Vegetable Recipes
Video Center: Selection, Storage, and Preparation of Fruits & Vegetables.