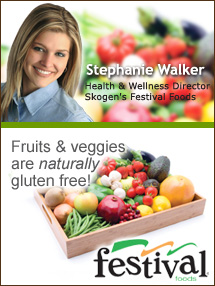 Gluten Free has become somewhat of a buzz word over the last several years. More and more people are cutting out foods that contain gluten from their diet for various reasons: some do it because they have been diagnosed with celiac disease, others avoid it because they have an intolerance and feel better when they do not eat it, while still others cut it out for personal reasons or beliefs. Whatever the case may be, people are seeking out gluten-free foods in the grocery store on a regular basis these days.

With May being Celiac Disease Awareness Month, I thought it would be fitting to highlight some foods that are naturally gluten free, namely fruits and vegetables! Fruits and veggies are some of the most nutrient-dense foods you can fuel your body with. They're rich in vitamins and minerals, full of fiber and antioxidants, and low in calories. For people who need to or want to eat a gluten-free diet (or for those who just want to eat a healthy diet in general), it's important to incorporate ample amounts of fruits and vegetables!

Here are some tips to help you fit more fruits and veggies into your day …
Grab & Go. Keep a container of cleaned and cut vegetables (carrots, broccoli, grape tomatoes, cauliflower, cucumbers, etc.) in your fridge so they're easy to reach when you need a snack. Hummus goes great with fresh veggies if you like to eat them with a dip.
Fresh Fruit as Dessert. Opt for fresh fruit as a dessert rather than typical cookies, cakes or pies (which most often contain gluten). Top a bowl of fresh berries with some Greek yogurt and a sprinkle of cinnamon for a tasty and healthy treat!
Smoothies. Try making smoothies with a variety of fruits and vegetables. Bananas, berries, spinach, and carrots are all great ingredients to experiment with. You might be surprised how tasty these combinations are!
Top Your Toast. Always try to include some fruit with your breakfast. Toss some blueberries onto your bowl of cereal, top your toast with sliced banana, stir some strawberries into your yogurt … the possibilities are endless!
More Green Salads! Whether you eat them as a side dish or as your main entrée, salads are a great way to start eating more veggies. Top a bed of leafy greens with some chopped vegetables like tomato, cucumber, avocado, and bell peppers, then add grilled chicken breast and a light sprinkle of cheese and you have a healthy dinner that's perfect for spring!
Below is one of my favorite smoothie recipes …
Pomegranate Berry Smoothie
Prep Time: 5 minutes
Makes 2, 1 ¾ cup servings

Ingredients

2 cups frozen mixed berries
1 cup pomegranate juice
1 medium banana
½ cup nonfat cottage cheese
½ cup water

Instructions
Combine mixed berries, pomegranate juice, banana, cottage cheese and water in a blender; blend until smooth. Serve immediately.

Recipe courtesy of Eating Well Magazine
Stephanie Walker, RD, CD
Health & Wellness Director