Make Half Your Plate Fruits & Veggies

MyPlate Challenge: Show us how you're following the MyPlate guidelines and make one of these plates (or another healthy plate), take a pic, and pin it to our Pinterest board!

 Make this Smoothie Breakfast Plate


 Avocado Melon Breakfast Smoothie Get Recipe


 Whole Wheat Toast


  Plate Cost for 2 People


 $3.86 ($1.93/serving)*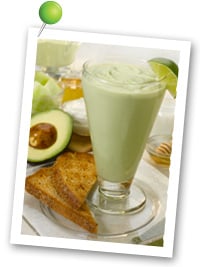 Fruits & Veggies per Serving


 1.5 Cups

Fruit/Veggie Color(s)


What's This?

 Featured Recipe


Avocado Melon Breakfast Smoothie


 Recipe Cost for 2 People: $3.77 ($1.89/serving)*
Nutrition Info
Calories: 390
Total Fat: 12g
Saturated Fat: 2g
% of Calories from Fat: 28%
% Calories from Sat Fat: 5%
Protein: 17g
Carbohydrates: 58g
Cholesterol: 5mg
Dietary Fiber: 8g
Sodium: 320mg
Each Serving Provides: An excellent source of protein, fiber, vitamin C, thiamin, riboflavin, folate, B6, B12, pantothenic acid, calcium, phosphorus, potassium and iodine, and a good source of vitamin D, niacin, magnesium, zinc and copper.

 Learn More About Avocados


 See Nutrition Info, Selection & Storage Tips
Grocery List for this Meal
 
Fresh Produce
 
1 large, ripe, fresh California Avocado
Honeydew melon (whole, half or cut in chunks) – enough for 1 cup
1 fresh lime
Juice
 
Apple juice (need ½ cup)
Dairy
 
1 8-ounce container fat-free plain yogurt
Fat-free milk (need 1 cup)
Baking/Cooking
 
Honey (need ½ Tbsp)
Bread
 
Whole wheat bread for toast, as an accompaniment
 
 
 
For more great tasting recipes featuring California Avocados, visit CaliforniaAvocado.com.
*Retail prices, Boulder, Colorado, July 2011
**Winner chosen weekly.