Make Half Your Plate Fruits & Veggies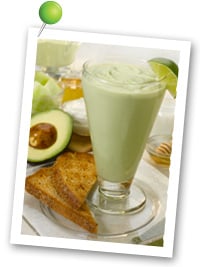 A delightful concoction of green fruit plus fat-free dairy. With convenience built in, this refreshing smoothie can be made a day ahead. Keeps well in the refrigerator up to 24 hours.
 
Recipe Cost for 2 People: $3.77 ($1.89/serving)*
 
Preparation Time: 5 minutes

1 ripe, fresh California Avocado
1 cup honeydew melon chunks (about 1 slice)
Juice from 1/2 lime (1 ½ tsp. lime juice)
1 cup (8 oz) milk, fat-free
1 cup fat-free yogurt, plain
½ cup apple juice or white grape juice
1 Tbsp honey

Cut avocado in half, remove pit. Scoop out flesh, place in blender. Add remaining ingredients; blend well. Serve cold. Holds well in the refrigerator up to 24 hours. If made ahead, stir gently before pouring into glasses.

 

Large avocados recommended for this recipe. A large avocado averages about 8 ounces.

 
Serves: 2
 
Fruits & Veggies per Serving
1.5 Cups
 

Fruit/Veggie Color(s)   [What's This?]

 
Nutrition Information per Serving:
Calories: 320
Total Fat: 11g
Saturated Fat: 1.5g
% of Calories from Fat: 31%
% Calories from Sat Fat: 4%
Protein: 13g
Carbohydrates: 46g
Cholesterol: 5mg
Dietary Fiber: 5g
Sodium: 170mg
 
Each serving provides: An excellent source of protein, fiber, vitamin C, riboflavin, folate, B12, pantothenic acid, calcium, phosphorus, potassium and iodine, and a good source of vitamin D, thiamin, B6, magnesium and zinc.
*Retail prices, Boulder, Colorado, July 2011