Keep It Simple!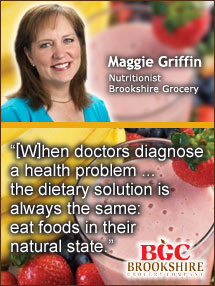 Simple pleasures. How often do we forget that thought and long for foods that are complicated, decadent and difficult to make? We believe that sophisticated foods—the ones with long ingredient lists and time-consuming preparation—are automatically more delicious.
The big surprise comes when doctors diagnose a health problem. Whether it's obesity, metabolic syndrome, diabetes, cholesterol or heart trouble, the dietary solution is always the same: eat foods in their natural state. Skip the unhealthy sauces, batters and glazes. Instead, enjoy the simple, pure goodness of unadorned fruits and vegetables.
It's hard to believe that something so easy could be so good for you: an apple instead of apple pie. Bananas instead of banana pudding. Steamed green beans instead of green bean casserole. Fruit smoothies instead of milk shakes.
Who'd have thought that the easy way out is actually the best plan?
So when you're planning a snack, side dish, desert or a special treat, take the easy way out, which just happens to be the best choice for your health: fresh, simple, delicious fruits and vegetables. What's not to love?
Need a few suggestions to entice your taste buds? How about:
Fruit salsa: finely chop strawberries, peaches, kiwi, mango and lemon juice. Serve with chips or cookies.
Baked sweet potatoes: bake on a cookie sheet at 375 degrees until you start to see syrup oozing out. That's natural sweetness, so don't rush that cooking time!
Parfaits: layer several colors of chopped fruit in a clear, tall dessert glass.
Roast veggie blend: oven roast onions, peppers, mushrooms, zucchini and more. Toss lightly in olive oil to prevent sticking.
Smoothie: process frozen berries or peaches, a banana and a splash of apple juice in a blender.
Brookshire Grocery Company