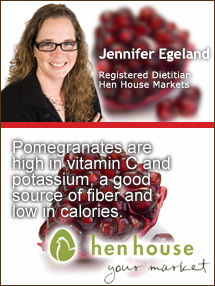 I know it is the holiday season when I am grocery shopping and see the big bin of pomegranates! These beautiful red fruits make wonderful centerpiece décor and are a healthy addition to many recipes! You'll find them in your grocery store from about September to January.

Pomegranates are high in vitamin C and potassium, a good source of fiber and low in calories. Pomegranate juice is high in three different types of polyphenols: tannins, anthocyanins, and ellagic acid; potent antioxidants that may help fight heart disease and many cancers.

If you've never purchased a pomegranate, here's what to look for …
Pomegranates are picked when ripe so when they reach the stores, they're ready to enjoy.
The heavier the fruit is, the juicier it will be.
Whole pomegranates keep well at room temperature for several days, away from direct sun. You can also store them up to 3 months refrigerated in plastic bags.
The arils (the juice sac containing the seed) can be refrigerated for up to 3 days. Freeze in single layers on trays, then up to 6 months in airtight containers.
If you're wondering how to open this unique fruit, here is one way to get to the arils …
Cut off the crown then cut into sections.
Place the sections in a bowl of water- this helps avoiding being stained by the juice. Then roll out the arils with your fingers. The seeds will fall to the bottom and the pith will float to the top. Discard everything but the arils.
Strain out the water. Enjoy the arils whole (seed and juice).
What can you do with these brilliant red seeds?
Enjoy the arils by themselves, as a snack, or try sprinkling over salads, fruit desserts, cakes or puddings. You can also use in marinades, yogurt dip, glazes and for garnish. Pomegranate arils can be added to your favorite cocktail or tossed on waffles, oatmeal, pancakes, yogurt, cereal, or sundaes. Using this festive fruit during the winter holidays is one more way to get more fruits into your day, remember more matters!

Jennifer Egeland, RD LD
Registered Dietitian
Hen House Markets
Fruit & Vegetable Recipes
Video Center: Selection, Storage, and Preparation of Fruits & Vegetables.