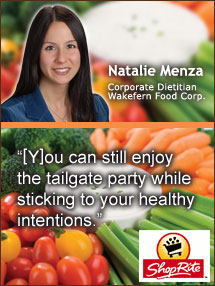 Let's face it, most of us are not thinking about healthy food when planning a tailgate party, but what if you could still enjoy your game day favorites without breaking your calorie bank? We're not suggesting that you serve tofu burgers with bean sprouts, but with just a few tweaks to your classic tailgate fare and you can stick to your healthy eating plan while still enjoying a day at the stadium.

Kick off your party with some fun and tasty appetizers
Try baked tortilla chips with a low fat spinach dip….or simply serve with salsa.
Serve cut up raw veggies with low fat ranch dressing.
Slice reduced fat cheese and serve with whole grain crackers.
Grilling is not only a low fat method of cooking, but also the most common cooking method for a tailgate party…and veggies taste great on the grill. Instead of serving the traditional hot dogs and hamburgers, try some of these healthier meal ideas.
Serve turkey burgers, veggie burgers, or grilled marinated Portabello mushroom sandwiches. Be sure to top it off with lettuce, tomatoes and sliced onions.
Hawaiian Chicken –grill chicken breast marinated in teriyaki sauce and top with grilled pineapple. Serve with a side of grilled corn on the cob.
Grilled veggie kebobs – thread your favorite vegetables like cherry tomatoes, mushrooms, onions, and red or green peppers. Be creative and experiment with different marinades.
For dessert:
Fresh fruit salad.
Angel food cake topped with fresh berries.
Low fat chocolate or vanilla pudding – mix in sliced bananas and for some crunch, crushed low fat graham crackers.
Even healthy tailgating can be fun. With just a little planning and some creativity, you can still enjoy the tailgate party while sticking to your healthy intentions.