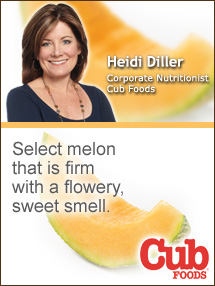 One of my favorite summertime fruits is the cantaloupe. Fragrant, sweet, delicious, low in calories and packed with vitamins A and C as well as potassium—what more could you want?

In fact … because of its high water content, cantaloupe is the perfect food for those of us trying to control our weight. Surprised? One cup of cantaloupe only has 62 calories!

4 New Ways to Serve Cantaloupe
On a hot summer day, freeze the melon cubes then pulse in a food processor to make an instant sorbet.
Surprise your family by adding cantaloupe chunks to skewers when grilling shrimp, scallops or chicken.
Wrap thin prosciutto slices around melon wedges and drizzle with aged balsamic vinegar.
Minty Spinach Fruit Salad (See Recipe Below)
Selection & Storage
Cantaloupe ripens after harvest but does not increase in natural sugar content. To tell if a cantaloupe is ripe when you buy it, take a look at the rind. The rind should be lightly golden—not a dull green color—under the mesh skin netting. The melon should also be firm but not soft. And you should smell a slightly flowery, sweet smell. Then once you get home, leave it on the counter for a few days to ripen to your preferred softness and juiciness. Once it's cut, store in the refrigerator.

Recipe
Here's a fun summer recipe using cantaloupe and fresh spinach. For variation, substitute red bell pepper for the strawberries. This salad looks as good as it tastes.
Minty Spinach Fruit Salad
Serves 2

Ingredients

Directions

Divide spinach between 2 serving plates. Arrange half of the cantaloupe, strawberries in a circular pattern over the spinach on each plate. Sprinkle with walnuts and fresh mint.
Mix together the mint jelly, white wine vinegar, oil, garlic and salt. Drizzle over the salads. Serve.

Nutrition information per serving: Calories 290, Fat 20 g, Sodium 67 mg, Carbohydrates 23 g, Fiber 6 g, Protein 4
Heidi Diller, RD
Corporate Nutritionist
Cub Foods
Fruit & Vegetable Recipes
Video Center: Selection, Storage, and Preparation of Fruits & Vegetables.