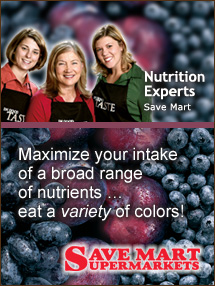 Am I the only one who craves blueberries in February but can't find them in the fresh produce section? Don't forget the frozen food aisle! Frozen berries and other fruits and veggies have just as many cancer-fighting phytochemicals as their fresh counterparts and sometimes more because of flash freezing. Bags of frozen fruit let you use as much as you want at a time, allowing you to return them to the freezer without waste.

Eating a Rainbow
The phrase "eating a rainbow" of fruits and vegetables is a simple way of remembering to get as much color variety in your diet as possible, to maximize your intake of a broad range of nutrients. Colors are one small clue as to what vitamins and nutrients are included. By getting a variety of different colored fruits and vegetables, you are guaranteed a diverse amount of essential vitamins and minerals.

In nature, blue is not as popular as the other "colors of the rainbow," especially in fruits and vegetables. Such a rarity could only mean that foods with blue have special qualities to them. Blue and purple fruits and veggies contain nutrients which include lutein, zeaxanthin, resveratrol, vitamin C, fiber, flavonoids, ellagic acid, and quercetin. These nutrients support eye health, lower LDL cholesterol, boost immune system activity, support healthy digestion, improve calcium and other mineral absorption, fight inflammation, act as anticarcinogens in the digestive tract, and limit the activity of cancer cells. Bottom line: eat blue!

Here's how to get your blue …
Throw frozen blueberries, blackberries, and juice into the blender for a blast of blue.
Make your salad even more colorful with a sprinkle of raisins.
Use shredded purple cabbage in stir fries and slaws.
Switch white and yellow onions with purple for more colorful salsas and salads.
Mix blueberries, fresh or frozen, into pancake batter for a memorable breakfast.
Eat a prune a day….for color and for fiber.
The Blue List
Blackberries, Blueberries, Dried plums, Eggplant, Grapes, Plums, Pomegranates, Prunes, Purple Potatoes, Purple asparagus, Purple cabbage, Purple carrots, Purple figs, Purple peppers, Raisins.

Check out this tasty recipe …
"Eat Blue" Quesadillas with Blue Sauce
Serves 4

10 oz. bag frozen blueberries
1/2 apple, cored and finely chopped
2 Tbsp. sugar
4 Tbsp. blueberry fruit spread
4 whole-wheat tortillas
1/2 cup shredded mozzarella cheese
1 cup low fat ricotta cheese
Grated peel of 1 lemon

Directions

In medium saucepan, combine fruit, sugar and cinnamon. Cover, bring to a boil over medium-high heat, reduce heat and simmer until fruit is soft, 10 minutes. Set aside.
Spread 1 tablespoon blueberry spread over each tortilla, leaving 1/2-inch border all around.
In bowl, combine cheeses with lemon peel. Spread 1/2 cup of cheese mixture over half of each tortilla; fold tortilla over to enclose filling.
Heat large skillet over medium-high heat. Add quesadillas and cook until crisp and lightly browned on bottom, 3 minutes. Turn and crisp on second side, 2-3 minutes.
To serve, place quesadillas on plates and top with warm sauce.

Nutrition information per serving:
Per serving: 285 calories, 8 g total fat (3.5 g saturated fat), 39 g carbohydrate, 12 g protein, 3 g dietary fiber, 260 mg sodium
Nutrition Experts
Fruit & Vegetable Recipes
Video Center: Selection, Storage, and Preparation of Fruits & Vegetables