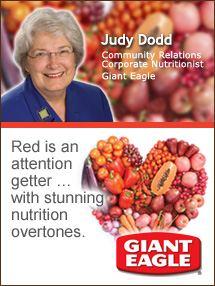 It's hard to ignore "healthy heart" messages that headline in February. Valentine's Day puts emphasis on the emotional side with flowers, sweets, cards and hugs, while organizations like the American Heart Association use February to focus on more serious messages; those deserving hugs because statistics indicate we are changing the outcomes related to heart disease.

Although heart disease is still the #1 killer of both men and women, prevention and lifestyle adjustments are in the forefront as we bring the numbers down. The Dietary Guidelines for Americans have added to the focus on health. And at the front of the pack is the message to fill at least half your plate with fruits and vegetables. The word is out that vegetables and fruits are naturally low in fat or provide a source of heart-healthy fat with a great mix of fiber, vitamins, minerals and other plant nutrients; this same mix constitutes the building blocks for a healthy heart.

It makes sense to combine emotional and health-related messages by putting heart health and fruits and vegetables in the same mix. Think of it this way: Red is an attention getter … with stunning nutrition overtones. So let's look at ideas that build on heart-healthy messages with an emphasis on RED in February …
Try red bell peppers for stuffed peppers or as an addition to salads or soups.
Feature red grapes, apples (skins on of course) or red grapefruit or papaya in fruit salads with a touch of pomegranate.
Add tomatoes to salads, soups, and main dishes, and feature a whole-grain pizza with tomatoes, fresh mozzarella and sliced red peppers. In addition, salsa can add color as well as nutrition to the most mundane foods.
Try beets as way to introduce a sweet vegetable with a winning nutrient mix. Along with being a side, beets are a great addition to soups (try chopping into vegetable soup with a dollop of plain yogurt on the top).
Shred red cabbage into salads or try a quick sauté with red onions and a dash of vinegar.
Go for red tinges in romaine, lettuce or Swiss chard to add beta-carotene and that touch of color!
Honor your Valentine with dried cherries or fresh strawberries dipped in dark chocolate. Better yet, enjoy chocolate fondue with cherries and strawberries along with other fruits.
Toss dried cranberries or fresh strawberries or raspberries into your salads; they're great with spinach, greens and traditional chicken or tuna salad.
Make breakfast a heart-start day with a yogurt and fruit parfait. Or try some steamy oatmeal featuring dried cranberries or fresh berries.
Remember eye appeal is the enticer but the end result is variety and nutrition. Going red in February can put emphasis on the building blocks for a healthy heart … and introduce your family to variety in some new ways.
Judy Dodd, MS, RD, LDN
Community Relations Corporate Nutritionist