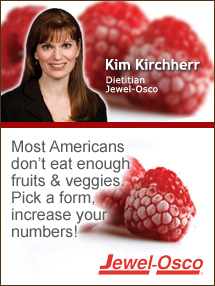 We all have good intentions when it comes to eating more
fruits
and
vegetables
. But without a plan, this becomes a revolving resolution we say year after year. Most Americans are not eating enough fruits and vegetables, meaning many people are not only missing out on the nutrition fruits and vegetables offer, but on loads of flavor as well! What's the secret to filling half your plate with fruits and veggies at every meal and snack? All forms count! All forms of fruits and veggies – fresh, frozen, canned, dried and 100% juice – matter to ensure you always have a variety of fruits and vegetables on hand and for every occasion.
Fruit & Veggie Checklist for Meals and Snacks
Fresh. Fresh fruits and vegetables smell great, have vibrant colors, and make our mouths water season after season. If you think summer, berries and watermelon come to mind. Fall offers the crunch of apples and the savory taste of squash. Winter brings citrus to mind, and spring? Strawberries and asparagus for sure! This means that your menus get a lift with each changing season, and your taste buds will never be bored!
Frozen. Frozen fruits and veggies (without sauce) are always in my freezer. There is no waste, they are ready to be cooked, and can be microwaved in minutes as a side, added to a casserole or soup, or even thawed and stirred into salad. And yes … they are just as nutritious as fresh! Simply remember not to overcook them to keep their bright colors and nutrients intact.
Canned. Canned fruits (in 100% juice, water, or even light syrup) or veggies can be a great choice to stir into oatmeal (I like canned pumpkin or natural applesauce), soups, and casseroles. Draining and rinsing can remove much of the sodium if that is of concern, or simply buy the no salt added varieties. The extended shelf life and ease of preparation makes these a good option for busy schedules. I love to keep canned tomatoes and black beans on hand in addition to marinated artichokes. So many great possibilities for fast suppers with these and more!
Dried. Many people question if dried fruit counts. It absolutely does! My favorite way to explain it is, it's like fresh with the water squeezed out (raisins are grapes, prunes are plums) … and it lasts longer. The key here is to monitor portions – it's easy to overdo it since they look tinier than their hydrated counterparts. Try sprinkling raisins into oatmeal as the water is still being absorbed to plump them a bit, or keep dried plums in your snack drawer at work; a sweet treat that's easy to eat – and a smart choice, too.
100% Juice. Always choose 100% juice.
Here's one of my favorite fast and budget-wise recipes for a simple meal that's unique. It's packed with flavor and eye appeal!
Pasta with Garbanzo Beans & Spinach

Prep Time: 10 minutes
Cook Time: 10 minutes
Amount: 4 servings

Ingredients

1/2 (12 ounce) package wild harvest™ Organic Spaghetti
2 tablespoons wild harvest™ Organic Extra Virgin Olive Oil
1/2 cup diced red onion
1 tablespoon chopped garlic
1 (14.5 ounce) can wild harvest™ Organic Diced Tomatoes, drained
1 (15 ounce) can wild harvest™ Organic Garbanzo Beans, rinsed and drained
1/4 teaspoon red pepper flakes
2 cups wild harvest™ Organic Fresh Spinach Leaves
Fresh, grated Asiago cheese, optional

Directions

Prepare pasta according to package directions; drain.
Meanwhile, in large skillet, heat oil over medium-high heat. Add onions and garlic; sauté until onions are softened (about 3-5 minutes).
Stir in tomatoes, beans and pepper flakes. Salt and pepper to taste. Bring to a simmer.
Stir in pasta and spinach. Cook until spinach is wilted (about 2 minutes). Remove from heat. Sprinkle with cheese, if desired.

Nutrition Info per Serving
Calories: 350
Total Fat: 9g
Saturated Fat: 1g
Cholesterol: 0mg
Sodium: 315mg
Carbohydrates: 55g
Dietary Fiber: 5g

Recipe courtesy of SUPERVALU.
Kim Kirchherr, MS, RD, LDN, CDE
Dietitian
Jewel-Osco