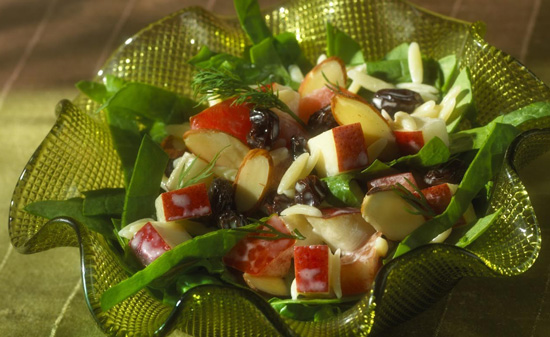 We all do it – make those resolutions with the best intentions – and oftentimes they include making better choices in regards to food and lifestyle choices. This year, make it fun and easy so that you'll love making half your plate full of fruits and veggies!

Mix things up seasonally. One of the easiest ways to make meals and snacks interesting is to use seasonal fruits and veggies. Many recipes can easily adjust to what you have on hand in terms of produce, so experiment! Soups, stews, casseroles, omelets, sandwiches – picture them with your favorite fruit or veggie of the moment.
Make a list. Check out what's on sale and also what you already have to use so you can buy wisely at the supermarket.
Buy it and Try it! If there's an item you've never had, don't be afraid to buy it and try it. Check out videos on how to prepare fruits and veggies or look for recipes with fruits and veggies that will make it easy to try.
Meal planning to save money. Plan meals that use some similar ingredients to keep things easy on the wallet and during the week.
Educate yourself. Learn how to select and store your favorite (and new favorites!) fruits and veggies.
Get creative! Use cookie cutters to create festive shapes with fruits and veggies throughout the year.
Pair fruits and veggies with other food groups. Aiming for meals that include three food groups is a simple way to organize your meal planning and ensure a great mix of nutrients and flavor.
Add fruit to savory dishes. The natural sweetness of fruit can make bitter flavors more appealing. Savory Pear Salad
Serve veggies at breakfast. Whether you add veggies to your usual smoothie, an omelet, or a breakfast sandwich, just start the day out right with a serving of veggies incorporated into your meal. Avocado Breakfast Bruschetta
Make it easy to make a better choice. Start small, like adding a whole piece of fruit to your lunch bag or pepper strips to your sandwich. Stir fruit into your yogurt. Add more veggies to your soup.
Stir in flavor and color. Add colorful veggies to your pasta dish to make it more eye appealing. Stir fruit into plain yogurt.
Cook ahead/plan ahead. Use the time you have within your schedule to set yourself up for success. Whether it's cutting up fruits and veggies ahead of time, roasting and freezing veggies to use throughout the week, or making a big casserole or pot of stew that is frozen into meal-size portions, plan and cook ahead to make busy weeks less stressful.
Every meal matters. Try to include one fruit or veggie at every meal.
Stock up! Make sure you have a variety of canned, dried, frozen, and 100% juice in addition to fresh favorites.
Eat it up! Use everything you buy!
Keep it simple. Whether it's learning about fruits and vegetables or making them, it doesn't have to be complex. Focus on one item/one new recipe at a time.
Every snack matters. If you find yourself falling short of fruits and veggies one day, just start again the next.
Kim Kirchherr
Dietitian
IGA
Insider's Viewpoint Archive
Fruit & Vegetable Recipes
Video Center: Selection, Storage, and Preparation of Fruits & Vegetables.