Make Half Your Plate Fruits & Veggies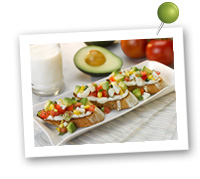 Start your day with a breakfast twist on classic bruschetta: California avocados, tomato, hard-boiled egg and ricotta with basil atop toasted rustic whole grain bread.
Recipe Cost for 4 People: $6.37 ($1.59/serving)*
Preparation Time: 20 minutes
1 ripe fresh California Avocado
2 medium tomatoes
1 green onion
½ cup chopped fresh basil, plus 2 Tbsp for garnish
4 eggs, hard-boiled
12 slices whole wheat baguette bread
¼ cup reduced-fat ricotta cheese
Cracked black pepper to taste
Dice avocado, tomatoes and green onions. Peel and chop hard-boiled eggs. Reserving 2 Tbsp basil for garnish, gently toss first five ingredients in a small bowl. Add pepper to taste. Toast baguette slices and smear with ricotta cheese. Top with avocado mix and garnish with chopped basil.

NOTE: A large avocado (about 8 ounces) is recommended for this recipe. How to Choose and Use Avocado
Complete this Healthy Plate: Serve with 8 oz non-fat milk.
Serves: 4
Fruits & Veggies per Serving
0.75 Cups
Nutrition Info
Calories: 340
Total Fat: 17g
Saturated Fat: 3.5g
% of Calories from Fat: 45%
% Calories from Sat Fat: 10%
Protein: 17g
Carbohydrates: 32g
Cholesterol: 190mg
Dietary Fiber: 9g
Sodium: 310mg
Each serving provides: An excellent source of protein, fiber, vitamin A, vitamin C, thiamin, niacin, riboflavin, vitamin B6, folate, and phosphorus, and a good source of vitamin D, vitamin E, pantothenic acid, potassium, calcium, iron, magnesium, zinc, iodine, and copper.
*Retail prices, Boulder, Colorado, and online, February 2014.