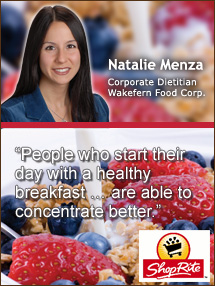 I'm sure that you have heard the expression, "breakfast is the most important meal of the day." Well, it's true. A number of studies have shown that people who start their day with a healthy breakfast are more likely to eat healthier the rest of the day, are able to concentrate better, and are usually able to maintain a healthy weight. However, not all breakfasts are created equal! It's important to choose a healthy breakfast that will leave you feeling full of energy to start your day off right! Here are some of my favorite healthy breakfast ideas.
Quick and Easy Choices
Ready-to-eat whole grain cereal with skim milk and fresh berries
Swirl applesauce and raisins in a bowl of hot oatmeal. Serve with a glass of skim milk.
Whole wheat English muffin topped with peanut butter and sliced apples
Fresh fruit salad mixed with low-fat cottage cheese
Fresh fruit smoothie – mix banana, strawberries, skim milk, and ice cubes. Blend.
Peanut butter smoothie – mix skim milk, a scoop of peanut butter, banana, and ice. Blend
Whole grain waffles with low-sugar syrup topped with fresh berries
Breakfast Wrap: Turkey slices on a whole grain tortilla with a slice of reduced fat cheese and sliced avocado
Breakfast parfait – layer low-fat yogurt, fresh fruit, and whole grain crunch cereal
Weekend Meals

Have a little extra time, try some of these meal ideas:
Mexican omelet – use egg whites or egg beaters, mix in peppers, spinach, and onions. Top with salsa and low-fat cheese
Prepare pancakes using whole wheat flour and egg whites. Mix in fresh fruit such as bananas or strawberries for variety!
Garden Frittata
Prep time:
10 minutes
Cook time:
15 minutes

Preheat oven to 350°F. Coat oven-proof skillet with nonstick cooking spray and heat over medium heat. Add ham; cook and stir 2 to 3 minutes. Add asparagus, broccoli, and onion; and cook until vegetables are tender, about 5 minutes.
In small bowl whisk together egg whites and pepper, pour over vegetables in skillet. Cover; cook until edges are set and bottom is lightly browned, about 2 minutes. Top with tomatoes and sprinkle with cheese.
Transfer skillet to oven and bake 5 minutes or until lightly browned. Cut into wedges. Serve sprinkled with fresh basil, if desired.

Serves 4
Per serving:
142 calories
6g carbohydrate
17g protein
2g fiber
5g fat
3g saturated fat
26mg cholesterol
485mg sodium
Wakefern Food Corporation