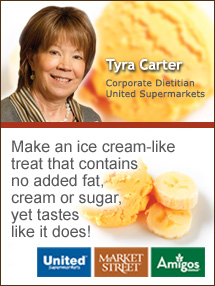 Summer is synonymous with cranking up the freezer or ice cream machine to make the all-American treat—homemade ice cream. Fruits of the season are commonly used in the mix or as a topping for plain 'ole vanilla. Here are some ways to keep those frozen treats healthy!
Healthy Homemade Frozen Treats
I've recently learned about a machine that makes a frozen, soft-serve treat that resembles soft, just frozen, out of the canister ice cream or frozen yogurt! It is called Yonanas® and the basic ingredient for the recipes is frozen, cheetah-ripe bananas (those ripened to the point of having brown spots on the peel that you might just use for banana bread). Simply peel the bananas and freeze. Just two (2) bananas are the basis for numerous flavors of Yonanas® treats, typically making two (2) generous servings.
The remarkable thing about this approach is that you end up with an ice cream-like treat that contains no added fat, cream or sugar, yet it tastes like it contains all of these and also has a creamy texture. I've made tropical versions with frozen pineapple, topped with a small amount of toasted coconut as well as indulgent versions using a small amount of dark chocolate. Of course, the coconut and chocolate would add a small amount of fat to the treat. Since bananas have a mild flavor, the frozen treat takes on the flavor of other fruits or ingredients added to the mix.
Don't have a Yonanas® Machine?
No worries! You can use the same basic ingredients, add some plain fat-free yogurt or kefir, a little unsweetened fruit juice, some ice … and make a refreshing smoothie that is just as enticing.
Get Your Potassium
Bananas and other fruits are high in potassium, a mineral that is often out of balance in the American diet. We tend to get excessive sodium, unhealthy fats and added sugars, while falling short on potassium. Foods rich in potassium and low in sodium may help to reduce the risk of high blood pressure and stroke. Bananas supply about 300 to 400 milligrams potassium per medium-size fruit. They are also a good source of vitamin C, vitamin B6 and fiber.
Prebiotic & Probiotic Benefits
Probiotics (friendly and welcomed bacteria) are found in foods such as yogurt and kefir that contain lactobacillus and/or bifidobacteria live cultures. Probiotics help promote digestive health, protect against yeast infections, promote urinary/genital health and stimulate immune response. How do probiotics thrive? They need food in the form of prebiotics. Bananas are a great source of prebiotics, along with blackberries and strawberries; so consider making yonanas or smoothies with these additions.
Recipes
Vanilla Fruit Smoothies
Yield: 2 large servings

Ingredients

½ cup orange juice
½ cup plain low-fat yogurt or kefir
1 ripe banana
⅓ cup frozen peaches
⅓ cup frozen strawberries
¼ cup frozen raspberries or blackberries
1 tsp double strength pure vanilla extract
8 ice cubes (or more for thicker smoothie)

Directions
Put all of the ingredients in a blender and blend for about one minute.

Tip: If your blender can't handle regular ice cubes, buy a bag of small ones from the store and use a few more, or wrap them in a towel and smash them in half before adding to the blender.

Nutritional analysis per serving: calories 160, calories from fat 10, total fat 1g,
saturated fat 0.5g, trans fat 0g, cholesterol 5mg, sodium 45mg, total carbohydrate 33g,
dietary fiber 3g, sugars 26g, protein 4g, vitamin A 2%, vitamin C 70%, calcium 10%,
iron 4%

Source: Adapted from penzeys.com
Yonanas® Recipes
Basic instructions:

Peel and freeze cheetah-spotted bananas for 24 hours.
Freeze other fruit (if fresh) for use in recipe.
Remove frozen bananas and thaw very slightly by (a) heating 15 seconds in microwave or (b) setting on counter top for 10 to 15 minutes.
Follow recipes included in the booklet with purchased machine.

Strawberry or Mixed Berry
Ingredients: 2 frozen ripe bananas, ¾ cup frozen strawberries

Insert one frozen banana
Add ¾ cup frozen strawberries or mixed berries
Insert second frozen banana
Stir in bowl to combine

Topical Tease
Ingredients: 2 frozen ripe bananas, ½ cup frozen pineapple chunks, ½ cup frozen mango chunks, ¼ cup shredded coconut

Insert one frozen banana
Add ½ cup frozen pineapple
Add ½ cup frozen mango
Insert second frozen banana
Stir pineapple mango mixture into bowl to combine
Sprinkle shredded coconut on top

Bittersweet Dark Chocolate
Ingredients: 2 frozen ripe bananas, 2 oz dark chocolate

Insert one frozen banana
Add 2 oz dark chocolate
Insert second frozen banana
Stir in bowl to combine

Recipes courtesy of Yonanas®
Tyra M. Carter, PhD, RD, LD